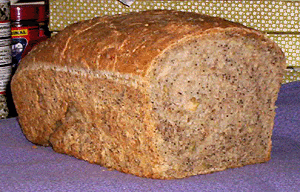 Of course! It's my favorite thing to make! =)
This recipe is form Tony Lacalamita's
"The All-New Ultimate Bread Machine Cookbook."
I've probably mentioned it before. I like it a lot. Enough said.
Chewy Country Bread with Seeds

Regular loaf = 1 1/2 lbs, Large loaf = 2 lbs.
regular loaf large loaf

water 1-1/4 cups 1-1/2 cups
olive oil 4 tsp 2 tbsp
honey 1 tbsp 4 tsp
salt 1-1/2 tsp 2 tsp
lightly toasted sesame seeds 1/4 cup 1/3 cup
poppy seeds 2 tbsp 3 tbsp
raw pumpkin seeds 1/4 cup 1/3 cup
rye flour 1/4 cup 1/3 cup
whole-wheat flour 1/4 cup 1/3 cup
bread flour 2-1/2 cups 3-1/3 cups
dry yeast 2-1/4 tsp 2-1/4 tsp

1. All ingredients must be at room temperature. Liquid ingredients should be approximately 80 degrees F. Add ingredients in the order specified in your bread machine owner's manual.

2. Select Basic or French cycle and normal or medium crust.

3. Remove baked loaf from pan at the end of the baking cycle and cool on a wire rack at least one hour before slicing.

I know, this bread is a lot "whiter" than I usually make. But it's so damn good! I made a "regular" sized loaf today. I used 3/4 cup WW flour and 2 cups bread flour, just to make myself feel slightly better about using so much white flour.

While Kevin calls almost all the bread I bake "chewy and seedy" (on account of most of it is, in fact, chewy and seedy!), this is the official "Chewy Seedy Bread" of the Kelli-Kevin household. Forgive us, Tony, for renaming this loaf!
Posted at 10/21/2004 6:24:25 pm by
KelliMelli