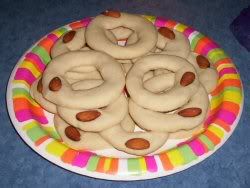 The past couple of Sugar High Fridays have gotten past me. I had every intention of participating in
this month's edition
, hosted by Zarah Maria of
Food and Thoughts
, but never really gave much thought to what I would make... until it almost got by me again! This month's theme is "Spice Up our Winter," with the condition that either (or all!) nutmeg, cardamom, or allspice be the featured ingredient. During last weekend's
cookie baking extravaganza
, Kevin and I just so happened to have made something that fit the bill perfectly -- and it was completely unintentional! Cardamom is a spice that Kevin and I both love, and we made Arabic shortbread cookies from
allrecipes.com
. We chose this recipe for its simplicity and short ingredient list (and copious amounts of cardamom!), but it wasn't until the next day that I realized it was the
perfect
entry for Sugar High Friday! PLEASE don't ask me to pronounce this, but these cookies are called...

Ghoraiybah
Ingredients:
1 cup butter, softened
1 cup sifted confectioners' sugar
2 cups all-purpose flour
1/2 teaspoon ground cardamom
12 almonds, split (optional)
Directions:
1. Preheat the oven to 300 degrees F (150 degrees C).
2. In a medium bowl, stir together the butter and sugar until smooth. Stir in flour and cardamom until well blended. Pinch off tablespoonfuls of dough, and roll into a thin rope. Join the ends together in a circle, and place on a greased cookie sheet. Place almond halves on the joints where the circles come together.
3. Bake for 20 minutes in the preheated oven. The cookies should remain white, but may turn golden at the very edge.

After mixing the first batch, we tasted the dough and decided more cardamom was in order. We added another 1/2 teaspoon and deemed it good. We divided the dough into 24 pieces, rolled them into ropes, and formed rings from the ropes. The first 12 we baked off spread quite a bit, and looked a lot like doughnuts when they came out of the oven! We chilled the rest before baking, and they came out great, as you can see above. Then we made a second batch!

I think the recipe intends for the almonds to be skinless, and I know it wants us to use halves, but we were a bit lazy and used whole almonds with their skins. I'm sure it's an aesthetic thing... but I like ours anyway. =) They're tender, buttery, and spicy. In fact, I think Kev and I could have used even another half teaspoon of cardamom and been pretty happy!
Posted at 12/10/2004 3:14:39 pm by
KelliMelli
Carolyn


December 12, 2004 12:04 PM PST



Cardamom is one of my favorite spices in cookies, and yours look lovely--you are to be commended for having such even and all the same looking cookies--good job.
Cathy


December 11, 2004 09:38 PM PST



Kelli - these are beautiful and sound delicious! I agree with Alice - I like the contrast of the dark almond against the pale cookie.
Kelli


December 11, 2004 03:09 PM PST



Zarah -- they're not exactly crispy or chewy... they're very similar to shortbread -- rich, buttery, a little crunchy, and a little crumbly. I usually prefer chewy, too, but these are just fantastic!

Alice -- they are so easy and so much fun to make -- Kev and I had a great evening working on them! I keep picturing myself breaking what I'm sure is a sacred tradition, and decorating them like little wreaths... =)
Zarah Maria


December 11, 2004 07:49 AM PST



Hi Kelli!

What an easy but delish sounding cookie! I'm very much for the cardamom flavor as well and would have upped the amount too. Tell me though, are they crispy or chewy? I'm very much a chewy cookie kinda girl...

And no, I'm not gonna try pronouncing it either... :-)

Thank you for participating in the event!
Zarah