It's very snowy, blowy, and
cold
here today...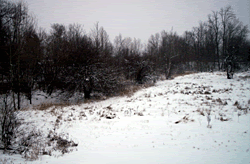 The sun made a token effort at being seen:
You really can't tell, but it
was
snowing when I took these!
You all must know by now what snowy, blowy, and cold means to me... baking!! The time had come to try making bread dough in my
purple mixer
.
I found the perfect recipe at Lesley's Recipe Archive: 5 Grain Bread. You know me -- the more grains, the better! Here's the recipe, copied directly from the site... I'm warning you, it's just a bit difficult to follow, but I figured it all out!

Five-Grain Bread
1-cup all purpose flour
1-cup whole-wheat flour
1/2-cup rolled oats (not instant)
1/4-cup yellow cornmeal
1/4-cup natural bran (not cereal)
1/4-cup wheat germ
1/4-cup dark rye flour
2-tsp salt

1-tsp granulated sugar
3/4-cup warm water
1-package dry yeast (1/4 oz)

2-1/4-cups very warm milk
3-tbsp honey
3-tbsp dark cooking molasses
1/4-cup cooking oil

5-1/2-cups all purpose flour
Measure first 8 ingredients into a large bowl
Stir sugar and warm together in a small bowl
Sprinkle yeast over top
Let stand 10 minutes. Stir to dissolve yeast
Combine the next 4 ingredients in a separate bowl. Stir
Add yeast mixture. Stir
Pour into dry ingredients
Beat until well mixed
Stir in enough remaining flour until dough pulls away from sides of bowl
Knead 8-10 minutes
Place in a greased bowl, turning once to grease top
Cover with tea towel
Let stand in oven with light on and door closed for about 1-1/4 hours until doubled in size
Punch dough down, and then divide in half
Shape into loaves
Place in two greased 9x5x3 inch loaf pans
Cover with tea towel
Let stand in oven with light on and door closed for about 45 minutes until doubled in size
Bake @ 375* for about 15 minutes
Turn onto racks to cool
Makes 2 loaves
Using 8-3/8 x 4-3/8 loaf pans will make 3 loaves

15 minutes?!? Who ever heard of a loaf of bread baking in 15 minutes? Let alone two loaves at the same time! I have to tell you, I was shocked. Of course, I didn't time it exactly, but it didn't take any more than about 20 minutes to bake these loaves.
The only change I made to the recipe is pretty predictable for me -- instead of 5-1/2 cups of AP flour, I used 2-1/2 cups whole-wheat flour and just about 2-1/2 cups AP. Today is obviously a very dry day, so the dough didn't need the entire 5-1/2 cups of flour.
I sure gave my
purple mixer
a good workout. The handbook tells what size recipes should be used for my particular model (maximum amount of flour per recipe), and I thought I calculated correctly, but once the dough was mixed, I had to divide it and knead it in two batches. The whole recipe was just too much for my poor mixer! It was a trooper, though, and made some
great
dough. This is a very soft, moist, hearty, and satisfying bread. I love the texture from the oats and cornmeal, and the sweetness from the molasses and honey. I also like the nutrition boost from using milk instead of water. This one's definitely a keeper!
Posted at 1/17/2005 4:59:39 pm by
KelliMelli
Kelli


January 18, 2005 12:23 PM PST



Hi Alice. =) It's fantastic bread -- a new favorite! I think I may try it again next week with some mixed seeds added. It sure gave my mixer a workout, but we made it through!