This month's
Is My Blog Burning: Beans, Beans, the Musical Fruit...
is hosted by one of my favorite bloggers: Cathy of
My Little Kitchen
. The woman bakes and blogs about cookies once a week -- how could you not love her?!? But I liked her blog even before she started her
"Mondays with Maida"
feature.
This post, however, is not about cookies. It's not even exactly about beans. But it is about lentils, which are legumes, which means they fit this theme! Yay! I like dry beans a lot -- but I like lentils even more. They're a great source of protein, they cook quickly with no pre-soak, and I think they smell like tea while they cook. Stand by for some seriously crazy fusion cooking!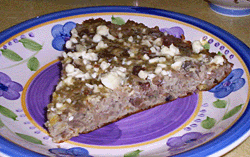 Mujadara Fritatta
Ingredients:
6 eggs
1/3 cup milk
2 cups mujadara (recipe follows)
feta cheese, crumbled (optional)
olive oil
salt & pepper to taste
Spread cooled mujadara in bottom of large oven-proof frying pan.
Beat eggs, milk, salt, and pepper together (I did it in my blender) until light and foamy.
Pour egg mixture over mujadara, cooking over medium heat just until eggs are set.
Sprinkle top with crumbled feta, if desired.
Bake at 400 until eggs are cooked through, and cheese is gooey and melty. Cut into 6 wedges and serve.
How's that for crazy? Mujadara is a Middle Eastern dish. Fritattas are Italian. Feta is Greek. And I used Thai Jasmine rice in my mujadara, because it's what I happened to have on hand. Believe it or not, it all works together quite well. And "mujadara fritatta" is just fun to say, isn't it? I know it's not a very pretty dish... unfortunately, green lentils cook up to be greenish-brown, and turn everything they come near the same funky color. But trust me -- this is a great dish, considering I completely made it up this morning and had no idea what I was doing!
Now, you ask -- what in the heck is mujadara? Here's the recipe!
Mujadara

Ingredients:
2 tbsp olive oil
1 large onion, chopped coasely
1-1/3 cups green lentils, sorted and rinsed
3/4 cup long-grain rice
salt and pepper to taste
Fry onions in olive oil until soft and brown, about 10 minutes. Remove from heat and set aside.
Place lentils in a large saucepan. Add enough water to cover. Bring to a boil, then simmer 10 - 15 minutes, until lentils just begin to get soft. Add rice and enough extra water to cover. Simmer another 15 minutes, or until rice and lentils are done and water is absorbed. Stir in salt, pepper, and onions.
Kevin loves to quote a Monty Python skit to me: "say no to lentils!" He's crazy. I generally reply by sticking out my tongue, then saying, "say YES to lentils!"
Posted at 1/23/2005 3:44:50 pm by
KelliMelli
Kelli


April 15, 2006 05:58 PM PDT



Wow, "Fan!" Thanks for the tip! I've been craving mujadara lately. I'll have to try that. =)
mujadara fan


April 12, 2006 05:09 PM PDT



A generous pinch of ground Allspice is the secret ingredient to stellar mujadara... it really elevates the dish to new heights. Add it right at the end of the onions sauteeing
Cathy


January 25, 2005 11:40 PM PST



Hi Kelli - your frittata sounds delicious! Actually, that mujadara all by itself sounds delicious! Thanks so much for participating in IMBB 11!