As I ate a piece of yesterday's
mujadara fritatta
for breakfast this morning, I was completely mortified over how ugly it is! It's easily the most unattractive food I've ever written about, let alone posted a picture of. I felt a dire need to cook something pretty today. To me, there's not much more on this earth that's more beautiful than bread! I had recently been browsing through my copy of "Bread Machine -- How to Prepare and Bake the Perfect Loaf" by Jennie Shapter, and found a recipe I've been meaning to try for ages: Wild Rice, Oat and Polenta Bread. Just think of all those chewy, crunchy grains... mmm...! Here's my interpretation of the recipe: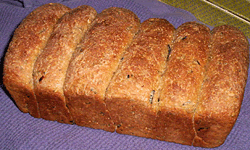 Wild Rice, Oat and Polenta Bread

1/4 cup wild rice
1-1/4 cups water
2 tbsp canola oil
1-1/2 cups unbleached bread flour
1-1/2 cups whole-wheat bread flour
1/2 cup stone-ground whole-wheat flour
1/2 cup coarse cornmeal
1/2 cup rolled oats (not instant!)
2 tbsp nonfat dry milk
2 tbsp light corn syrup
1 tsp salt
1 tsp rapid-rise yeast

1. Cook the rice in boiling salted water according to package directions. Once cooked and drained, you should have 1 cup of rice. Drain, set aside and let cool to room temp.

2. I threw everything except the yeast and rice into my purple mixer with the paddle attachment. I mixed on speed 2 just until everything came together, then switched to the dough hook.

3. Once the dough hook was on, I added the yeast and mixed on speed 2 until the dough came together into a big mass, then added the rice. I let it go until the rice was incorporated and the dough seemed... well... ready! It was elastic, but not so smooth because of all those yummy grains!

4. Place kneaded dough into a large, oiled mixing bowl, turning it over once so the whole thing is coated with oil. Let rise in a warm place until doubled in size, about 1 hour (I think it took closer to 2 hours today -- it's cold here!). When the dough has risen completely, turn it out onto a lightly floured surface and gently punch it down.

5. Divide the dough into 6 equal pieces. Shape each piece of dough into a mini-loaf, about 5" long. Place the six mini-loaves widthwise, side-by-side into a prepared 9"x5" loaf pan.

6. Cover the dough with lightly oiled plastic wrap and let rise in a warm place for 30 - 45 minutes, until the dough reaches the top of the pan.

7. Bake at 425 for 30 - 35 minutes, until bread is golden and sounds hollow when tapped on the bottom. Turn out onto a cooling rack.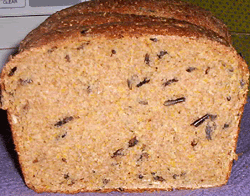 It's another winner! Dense, chewy, nutty, crunchy... there's so much going on in this bread! A word of caution, though, if you decide to make some -- the rice grains on the outer crust get pretty crunchy during baking. Chew carefully!
Posted at 1/24/2005 7:39:02 pm by
KelliMelli
Kelli


January 25, 2005 08:42 PM PST



Hi Julie! I did a sourdough experiment last fall, too. Check my September archives, starting on the 9th. It was quite the adventure, and it even got chosen as a "post of the Week" at toomanychefs.com!