"Maybe I'll Build Her a Cake or Something"
(if you don't know what movie that's from, you really should find out -- and then rent it!)
Tonight was Kev's and my "anniversary" dinner. Dinner, I must confess, was very simple -- pasta and garlic bread -- and yes, both were store-bought. I'm not ashamed to admit it. Dessert, however, was entirely from scratch and lots of fun. Inspired by Gale Gand's
"Heart Throbs,"
we built cakes for each other! I made the cake exactly as directed, but instead of homemade marshmallow filling, we just used whipped cream (yes, whipped in the
purple mixer
!) that I dyed pink. Also, instead of making little sandwiches, we used plates as our pallettes and let our imaginations go...
My cake for Kevin: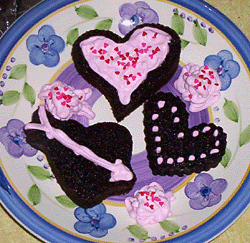 Kevin's cake for me: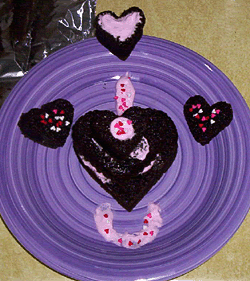 It's a little hard to tell, but the cake in the middle of this plate is a stack of three cakes of different sizes. Cute, no? And just for reference, the biggest hearts in these pictures are about 2-1/2" at their widest points. The plates are salad plates, about 7" in diameter.
Aren't you totally jealous of our
sweet
cake-building skills?
Oh -- we also opened the
Winterport Winery
Cranberry wine I bought last month. Yum.
Posted at 2/10/2005 10:27:20 pm by
KelliMelli
Alicat


February 15, 2005 11:23 AM PST



haha, well, we might be. God I loved that movie!! :)
Kelli


February 11, 2005 10:15 PM PST



Nic -- the cake is great! it is, in fact, very moist and chocolatey, and it got even better overnight! Isn't Gale great?

Ali -- do you suppose we're all alone on this one? Not quite, I guess -- I know the Food Whore knows what we're talking about... =)
Alicat


February 11, 2005 06:38 PM PST



the fiance and I are going to draw pictures of each other or something. :) The upper lip might take a while...
Nic.


February 11, 2005 11:05 AM PST



I saw that episode of Sweet Dreams and was also really inspired. Maybe it has something to do with my love of marshmallows and chocolate... How was the cake? It looked like it would be very moist and chocolatey. Is it worth making for V-day?