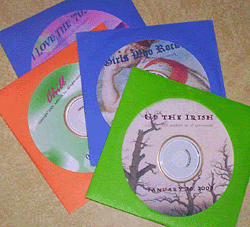 I've been "tagged!" I don't really have a grip on exactly what that means, but Alice tagged me for the "Music in My Kitchen" meme that's been going around. "Tagged" and "meme" are new words in my vocabulary, but here goes… and thanks for thinking of me, Alice. =)
What is the total amount of music files on your computer?

1.28 GB –- about 20 CDs. They're all my own CDs that I've put in my computer. No, I don't have an ipod. =( But I do have a Sony Walkman that plays MP3 CDs. I got it for Christmas, so I'm just getting into this. I'm making mix CDs like "Up the Irish" and "I Love the 70s." How fun! I don't download much music because I am on a crappy dial-up internet connection.
The CD you last bought?
Sarah McLachlan's "Afterglow Live," a CD/DVD combo pack.
What was the last song you listened to before reading this message?

"City of Blinding Lights" by U2.

Write down five songs that you often listen to or that mean a lot to you.
1. "Protection" by Massive Attack. Kev turned me onto this band when we first got together, and now they're one of my favorites. This is a perfect song, with amazing vocals by Tracey Thorn of Everything But the Girl.
2. "if i could" by Phish. Another Kevin band. Before I met him, I never thought I'd like them. I was wrong. This is the song that Kev says "the girls always like." I guess I fell for it, too!
3. "Pink Moon" by Nick Drake. Long story that only Kevin knows. =)
4. "ever so lonely/eyes/ocean" by Sheila Chandra. A beautiful song. Haunting vocals. I get chills down my spine when I hear it..
5. "I Will Remember You" by Sarah McLachlan. I know it's the last Sarah song most people want to hear, but it's the song that got me into her, and I haven't looked back since!
Who are you going to pass this stick to (3 persons) and why?
I'm not sure there are any food bloggers who haven't gotten this yet, but I'll try some of my newest "friends." What better way to start to get to know someone?

1. Steve, aka "SeaBee Cook".

2. Nic of Baking Sheet.

3. "Llizard" of Blog from Our Kitchen.

I'll get male and female west coast opinions from Steve and Nic, and "Llizard" is in Canada -- maybe even farther north than I am? Hopefully none of them has been tagged by anyone else yet. I guess that means I should tell them they've all been tagged! Is that anything like being served? It's on!
Posted at 2/11/2005 10:09:44 pm by
KelliMelli
Paket Umroh Murah


December 27, 2014 01:27 PM PST



great blog and nice artikel.
Amber


February 14, 2005 01:51 PM PST



I am new to food blogging but I Agree. Massive Attack's Protection is def. on my top list of "music to bake/cook by"

A few others are:

Bob Dylan : New Morning

Alter Ego: Decoding The Hacker Myth

Garden State Sndtk

Flogging Molly

-->But there are tons of albums that are in my stash & rotation, I love.

[I don't have an ipod neither...& my stereo just shorted out :( so my only source of music is my computer...gulp.]