My diet has been seriously lacking plum jam lately. It's not because I don't have any plum jam on hand... it's because I haven't taken the time to make my favorite vehicle for plum jam -- bread! Plum jam can't be eaten on just any old bread, you know. It really should be eaten on homemade bread. This afternoon, I got out my trusty copy of
"Smart Bread Machine Recipes."
It is, as I have mentioned, my absolute favorite bread book. Almost every recipe calls for 100% whole grain flours. A few -- very few -- call for just a little all-purpose flour. And I don't think any of the recipes calls for refined sweeteners. It's the crunchiest, granola-y-est bread book I own. I love it. I highly recommend it.
Today's recipe is one I've made before as dinner rolls for family gatherings. It's a perfect example of my favorite type of bread... you know, the more grains and seeds, the better? It came out as close to perfect as any loaf of bread I've ever baked. And yes,
of course
I baked it in the oven, and not my bread machine!
Amaranth Crunch Bread

makes 1 - 1 pound loaf
1-2/3 cups whole wheat flour
1/3 cup amaranth flour
1/4 cup rolled oats
2 tbsp wheat gluten
1 tsp yeast
1/2 tsp sea salt
1 tbsp lecithin granules or vegetable oil (I used lecithin)
2 tbsp maple syrup or honey (I used honey)
3/4 cup water
3 tbsp pumpkin seeds
Put everything except the seeds in the machine's bread pan and turn the machine to the "raisin bread" setting. Add the seeds when the machine buzzes.
At that point, you can either leave the dough in the machine all the way through the baking cycle, or take it out after one rise and have your way with it, like I did. I shaped it into a loaf and let it rise for about 45 minutes, until it had doubled in size. I baked it at 350 for about 25 - 30 minutes (but who was counting?), until it was golden brown and pulled away from the sides of the pan.

This is a beautifully soft, light, moist bread with a nice crunch from the pumpkin seeds. It goes equally well with sweet or savory sandwich fillings and spreads.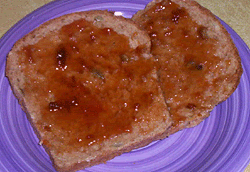 It's just the thing my plum jam needed!
Posted at 3/13/2005 9:21:52 pm by
KelliMelli
Kelli


March 17, 2005 04:42 PM PST



Lyly -- thanks. =)

Mia -- I'm glad you like the pictures. I am so insecure about my food photography! =)
Lyly


March 14, 2005 10:58 AM PST



*drool* nice blog!
Mia


March 14, 2005 04:44 AM PST



I love how your bread has risen up so nicely! I love bread, even more so, coarse, dense and grainy bread! Can you imagine - I'm literally drooling over your photograph of that bread. I want me some of that!!! :)