HOME! I got my computer set up today:
It's messy, I know, but it works for me. And yes, it's surrounded by unpacked boxes.
I've been using Kevin's computer since we moved, and don't get me wrong -- I love it! I have total Laptop Envy, and there's nothing better than (borrowed) wi-fi, but the laptop is lacking certain software (cough cough -- Photoshop! -- ahem). Plus, mine has all my settings and stored info and whatnot. And a good, old-fashioned modem for that ever-so-desirable dial-up connection that is far slower than (borrowed) wi-fi.
(
Mom
-- please tell Dad that I did, in fact, figure out how to put the desk back together [all by myself with no directions!], and I didn't even have any leftover pieces! It was touch-and-go for a few minutes, but I succeeded.)
So not only am I blogging from my own computer for the first time in about two weeks, but I
baked
today! It felt so good to be measuring, sifting, stirring and scooping again! For the inaugural baking event in the new place,
Nic
suggested the perfect food: corn muffins. Who knew that they're the
official muffin of Massachusetts
? Well, Nic did. And now I do. And now you do. And you all know me -- I never pass up something made with corn meal!
I searched the 'net for a recipe. I didn't want to blog about the same
muffins I made last summer
! I was torn between
Gale Gand's recipe
at Food TV and one I found on
Epicurious
. As much as I adore and admire Gale, the Epicurious recipe won because it had more corn meal (the cornier, the better!) and less butter (I'm really trying to watch what I eat these days). And, of course, I didn't exactly follow the Epicurious recipe to the letter. The original can be found
here
, but this is my version:
Blackberry Corn Muffins

1/3 cup coarse yellow cornmeal
2/3 cup fine yellow cornmeal
1 cup all-purpose flour
1/2 cup sugar
1 teaspoon baking powder
1 teaspoon baking soda
1/4 teaspoon salt
2 large eggs
1-1/4 cups plain yogurt
1/2 stick (1/4 cup) unsalted butter, melted and cooled
fresh blackberries
Preheat the oven to 350°F. In a bowl combine together cornmeal, flour, sugar, baking powder, baking soda, and salt. In another bowl whisk together eggs, yogurt, and butter. Add the flour mixture, and stir until just combined.
Prepare mini-muffin tin. In bottom of each cup, place one blackberry (or half of one if they're as big as the ones I bought the other day!).
Divide the batter among the cups, and bake 15 minutes, or until a tester comes out clean. Let the muffins cool in the tins on a rack for 3 minutes, turn them out onto the rack, and let them cool completely. Makes 36 mini-muffins.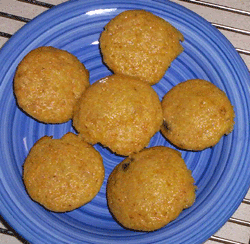 View from the top...

... and the cute little underbellies.




They came out great, and were a
huge
hit with Kevin. Someone wrote a review of the recipe and said the yogurt taste was overwhelming. I couldn't taste it at all! It made for a very light, moist muffin, which is sometimes hard to achieve when working with so much corn meal!
So, a baking success in the new apartment. May there be many more to come!
Posted at 5/16/2005 10:20:53 pm by
KelliMelli
Kelli


May 23, 2005 04:13 PM PDT



Thanks, everyone. =) I usually add raspberries to my corn muffins, but the blackberries were just too beautiful to pass up! And blueberries are fantastic in corn muffins, too.

Nic -- I'm glad you like the recipe. Isn't it amazing how rich the yogurt makes them?
Nic


May 23, 2005 12:35 PM PDT



I tried these yesterday with some frozen raspberries stirred in. They were great. Definately had a nice buttery taste to them.
Nic


May 17, 2005 10:31 AM PDT



I completely love the blackberries on the bottom of the muffins. Glad you got backin the kitchen, Kelli!
Dani


May 17, 2005 09:15 AM PDT



Thanks for the recipe... I am going to have to try those. They look delicous!
Ana


May 16, 2005 11:18 PM PDT



These look wonderful Kelli. I have some blueberries that would just do the job.