When
Alice
announced May's Sugar High Friday
theme
last month, "Pucker Up with Citrus," I thought, "great -- I'll be all moved and settled by then, and ready to participate!" (in case you haven't noticed, I haven't taken part in a food blogging event in
months
.)
So two weeks ago (today!), Kevin and I moved into our new place in Cambridge, MA. The kitchen and bathroom were quickly unpacked and set up, as was my cookbook collection. Priorities, you know. The rest of the unpacking is going verrrrrrrryyyyyyy sloooooowwwwwllllllyyyyy. Around 3:30 this afternoon, as I procrastinated a bit more, I was reading through some of my favorite food blogs. It turned out that Sugar High Friday is TODAY! It almost got by me. Almost.

I had already planned to bake cookies and bread today. Suddenly, my plans had changed! I needed to find a recipe that would fulfill the theme, but not require a shopping trip. I'd aleady been to the store once today, and even I have my limits! There's a lime cookie recipe on
Epicurious
that I've had my eye on for a long time, and I had everything I needed on hand. But I've really been craving cake this week. I searched
All Recipes
for "lemon cake," and found several prospects. There was a Bundt cake that especially caught my eye. I saved it to my recipe box, but kept looking. Suddenly, I found my recipe:
Lemon Custard Pudding Cake
. I've always wanted to try my hand at a custardy-puddingy cake, and I had everything I needed right in the fridge! Call me crazy, but I'm a citrus hoarder. I almost always have a supply of lemons and limes on hand. You just never know when you'll get the urge to make
hummus
or
Spicy Fu
(which, incidentally, is on the agenda for this weekend)!
It was settled. I had chosen what's probably the fanciest recipe I've ever made. Here's what I ended up with: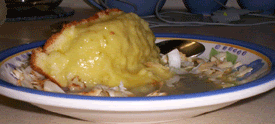 Mmm... looks lemony and delightful, doesn't it? Well, surprise! It's actually limey! I like lemons as much as the next person, but I love limes. They're so tart and spicy and complex. So, without further ado, here's my version of citrusy, custardy, puddingy cake:

Lime Custard Pudding Cake

6 tablespoons butter, melted
6 tablespoons all-purpose flour
2 cups sugar
4 eggs
1-1/2 cups milk
zest of one lime
2 tablespoons lime juice

Preheat oven to 350. Grease a 2 quart baking dish. Separate eggs.

In a large bowl, combine flour, butter and 1-1/2 cups of the sugar. Beat egg yolks and add to sugar mixture, along with milk and lime zest. Mix well and add lime juice.

In another bowl beat egg whites until stiff, slowly adding the remaining 1/2 cup white sugar. Fold the egg whites into the batter. Pour batter into the prepared dish.

Place the dish in a shallow pan of hot water and bake at 350 degrees F (175 degrees C) for 55 to 60 minutes or until lightly browned. Serve warm, or chilled with confectioners' sugar dusted on top.

I can't tell you how strong the urge was to peek at the cake as it baked (not only does my oven not have an indicator of when it's up to temp, but it has no window in the door, either!). Within ten minutes, the whole apartment smelled sweet and citrusy. I couldn't wait! Never having baked a custard/pudding cake before, though, I had no idea what to look for to know when it was done. So after 55 minutes, thinking the toothpick trick wouldn't apply here, I peeked. It smelled done, had pulled away from the sides of the dish, didn't seem too terribly jiggly, and was nicely browned. I deemed it done.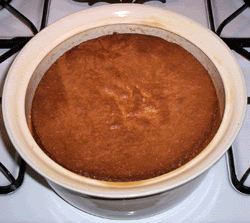 Impatience was not my friend this evening. I only let the cake cool for about 5 minutes before digging in.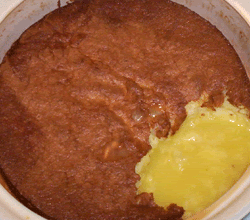 Should it really be that soupy on the bottom? Eh. Whatever. I'm game!



This being a lime cake and all, it seemed only fitting to garnish with a bit of freshly toasted coconut (I know, how sick are we all of that poor song, thanks to the Coca-Cola company?!?).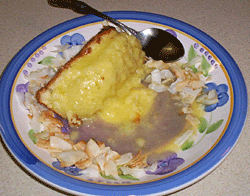 All I can say is WOW. This is one spectacular dessert. The top "crust" is airy and crispy. The middle layer is light, spongy, and moist. The sauce from the bottom pulls it all together, and the coconut adds a nice crunch factor. When we finally get all unpacked and settled, we want to have a little dinner party. I can totally see this as an Impress Your Friends dessert!

Now I can't wait to taste it chilled. I wonder how much the saucy, custardy layer will set up...

I love limes.

---
PS: Unfortunately, I'm going to have to opt out of this month's Is My Blog Burning? I don't do gelatin, and agar is just too rich for my blood right now! >SIGH< Maybe next month...
Posted at 5/20/2005 9:49:25 pm by
KelliMelli
Kelli


May 23, 2005 04:06 PM PDT



Thanks, everyone! This dessert was SO much fun to make. Unfortunately, the pudding/sauce didn't thicken too much when it chilled. It was still very good, but definitely better warm, fresh out of the oven. I can't wait to make it again. I bet orange cake would be good, too...

Alice -- thanks again for hosting this month! I bet you've unpacked more than we have. We've been extremely lazy about it for the past week and a half. =)

And please, everyone, pay no attention to my brother's reference to himself as "stupid." He's one of the three most amazingly intelligent people I know!
Nic


May 22, 2005 05:54 PM PDT



Kelli, I nearly made a lime pudding cake for SHF this month. I'm definately going to try my hand at it now, though. It seems like it would be much lighter than, say, a key lime pie. Did it set up much in the fridge or was it better warm?
chronicler


May 21, 2005 12:30 AM PDT



I love pudding cakes! They are a lost dessert, and they are sooo good. The crust looks perfect!
Ana


May 20, 2005 11:08 PM PDT



The pudding-cake looks so good Kelli. I love those custard-type cakes that remain gooey in the middle.