Who called them "cuppycakes?" Was it Ernie from Sesame Street? Hmmm...
Well, anyway -- I finally jumped on the cupcake bandwagon everyone else seems to have been on lately. It was Friday night, I was home alone, and I really wanted some sugar. Well, really frosting, but frosting needs a vehicle. Even
I
can't eat it straight up!
My favorite junk food combination is chocolatey cake and vanilla-y, creamy filling or topping. My favorite junk food itself is the Whoopie Pie, hands down. But oddly enough, I don't have a recipe for them! I need to beg the woman who cuts my hair for hers. They are
amazing
. But for now, I settled for chocolate cupcakes with vanilla frosting (that actually turned into something else... but more on that later!).
I found a great cupcake recipe at
allrecipes.com
(where else?). It was very simple, with common ingredients. No sour cream, no unsweetened chocolate. Just butter, sugar, flour, eggs (as Gale Gand would say!). And cocoa powder, of course. And a couple other things. But it was all stuff I had on hand.
Chocolate Cupcakes

1 1/3 cups all-purpose flour
1/4 teaspoon baking soda
2 teaspoons baking powder
3/4 cup unsweetened cocoa powder
1/8 teaspoon salt
3 tablespoons butter, softened
1 1/2 cups white sugar
2 eggs
3/4 teaspoon vanilla extract
1 cup milk


Preheat oven to 350 degrees F (175 degrees C). Line a muffin pan with paper or foil liners. Sift together the flour, baking powder, baking soda, cocoa and salt. Set aside.
In a large bowl, cream together the butter and sugar until light and fluffy. Add the eggs one at a time, beating well with each addition, then stir in the vanilla. Add the flour mixture alternately with the milk; beat well. Fill the muffin cups 3/4 full.
Bake for 15 to 17 minutes in the preheated oven, or until a toothpick inserted into the cake comes out clean. Frost with your favorite frosting when cool.

These turned out to be fantastic, the quintessential chocolate cupcake... light, moist, dark, and chocolately. Yum! I originally intended to use vanilla frosting, but then I had an epiphany. Kevin and I have been on quite a coconut kick lately, and I have coconut flavoring in my cupboard. An idea was born! Here's what happened:
Coconut Frosting
2 cups sifted confectioners' sugar
1/2 cup butter
1/2 teaspoon vanilla extract
1/2 teaspoon coconut flavoring
1 1/2 tablespoons milk

Cream sugar, butter and vanilla. Add a small amount of milk (1 to 2 tablespoons). Add cocoa if desired and beat until fluffy. If frosting is too sweet add a little more milk.

And now, the piece de resistance: once the cupcakes had cooled and been frosted, I dipped their tops in a little freshly toasted coconut.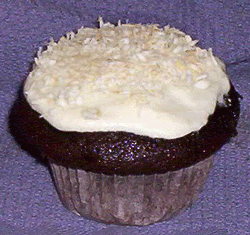 Need I say more?
Posted at 6/6/2005 10:15:14 pm by
KelliMelli
Name


June 7, 2005 09:21 PM PDT



Yum! I'm making these tonight!