This is really turning into a baking blog, isn't it? Well, baking is what I love best! Plus, with Kevin working the 3 - 11 shift at the station, we never get to have supper together, so I'm not doing an awful lot of
cooking
cooking. There's a lot of spaghetti, sandwiches, and cereal being eaten in this house. Embarrassing but true. But at least the sandwiches are being eaten on homemade bread!
Speaking of homemade bread, this is what happens when, on a humid (but blissfully cool!) day, you let your bread machine make your dough, and you forget to feel the dough partway through the process to check the water/flour balance: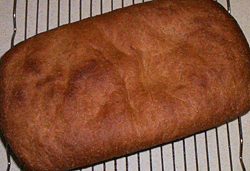 OK, so that picture doesn't quite give the full effect. But this one does: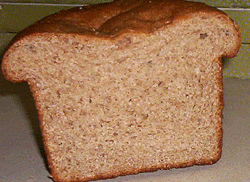 Kinda looks like a mushroom (the name of which eludes me right now), doesn't it? So, the dough has too much water, or not enough flour, depending on your view of things. It comes out too soft and sticky and the top of the loaf sinks while baking. But, much like my crazy multigrain bread, it still tastes good! This is a recipe I have made several times, usually with a bit more success...

Wheat Germ & Honey Bread

adapted from
"Smart Bread Machine Recipes"
by Sandra L. Woodruff
makes 1 1-1/2 pound loaf
2 cups whole-wheat flour
1 cup unbleached bread flour
4-1/2 tbsp toasted wheat germ
1-1/2 tbsp vital wheat gluten
1-/2 tsp yeast
3/4 tsp sea salt
3 tbsp honey
1-1/2 tbsp lecithin granules or vegetable oil
1-1/4 cups water
Mix dough in machine, then bake in machine or in a 9x5 pan, in a 350 oven for 35 - 45 minutes.
Posted at 6/18/2005 11:05:25 pm by
KelliMelli
Kelli


June 20, 2005 05:35 PM PDT



Ana -- I kept thinking the same thing! I guess I forgot to put those thoughts in my entry. =) I'm glad you enjoy my baking adventures. I know I do!
Ana


June 19, 2005 07:07 PM PDT



Funny Kelli, you went from too high to too low!

I love your baking, by the way. And I got your message. I'll answer soon. Thanks.