It has come to my attention that as of late, I have been posting about bread quite frequently. I realized the other day that I may as well start a new feature called "Bread of the Week." I could have gone with something cutesier, like "Our Weekly Bread" or something, but I decided to keep it simple. I'm not going to lock in a specific day of the week -- my bread baking depends on my work schedule and our bread needs. All I can tell you is that there will most likely be a bread post each week. =) So, without further ado, I present this week's bread: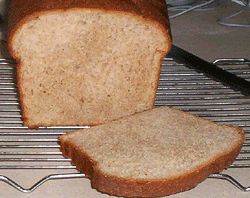 Honey-Butter-Wheat Bread

I know, it looks an awful lot like last week's bread (flat though it was!). But it's really quite different. There's something very special about this bread. I am so in love. The dough started out a typical whole-wheat bread shade of tan, turned a gorgeous saffron yellow partway through baking, and progressed into the perfect golden brown you see above. The crust is the perfect thickness. The crumb is amazingly soft and light. And, as the title suggests, it's an extremely flavorful bread. The original recipe came from one of my favorite websites (that I won't even bother to mention today), but since when do I leave a recipe alone? Here's what I did:

1 cup Cambridge tap water (can you believe I drink it?!? it's not half bad for city water)
2 tablespoons organic unsalted butter, at room temp and cut into small pieces
2 tablespoons Maine raspberry honey
1-1/2 cups whole-wheat flour
1 cup unbleached bread flour
1/3 cup dry milk powder
1 teaspoon salt
2-1/2 tsp active dry yeast

Load ingredients into bread machine pan according to manufacturer's instructions. Mix and bake in machine set to your favorite crust setting, or just use dough cycle and bake bread in a 350 oven for 35 - 45 minutes.

I think I need some toast now... with organic butter... and maybe a touch of Maine cranberry honey. Mmm...
Posted at 6/22/2005 9:28:34 pm by
KelliMelli
Kelli


June 24, 2005 09:30 PM PDT



Thanks, Nic. =) My breads aren't as beautiful as some I've seen on your blog, though... I get so jealous of your artisan-style breads you bake in class!

Dani -- I love to bake bread, but I certainly make my share of sticky sweets, too! Also, I have a granola bar recipe that I really like... but I'd love to see yours, if you're willing to share.
Dani


June 23, 2005 02:50 PM PDT



You are such a little bread baker! I need to start making more fresh breads... I wish I did more often, but I find myself making sugary confections instead. The one thing I do make almost every week is healthy granola bars :)
Name


June 23, 2005 12:34 AM PDT



Great idea for a feature, Kelli. I'll look forward to reading about the breads!