Since the next 3+ days are supposed to be hotter than eight bitches in a bitch boat (bonus points to anyone who can identify the source of that phrase!), and I had the day off today, I thought I'd get a head start on heating up the apartment. Much baking was in order. I was feeling the need to stock up! I made
spiced applesauce bread
, two loaves of next week's
Bread of the Week
(to be frozen until needed), and some yummy delicious cookies! I'll blog about the bread next week, of course, but here's the recipe for the cookies. It's another one (slightly modified by me, of course) from the Betty Crocker book I
borrowed
from my mom. =) Apparently I'm on a spicy-sweet kick...
Ginger Creams
1/4 cup shortening (I'm out, so I used butter)
1/2 cup sugar
1/3 cup molasses
1 egg
1 cup all-purpose flour
1 cup whole-wheat flour
1/2 tsp baking soda
1 tsp ground ginger
1/2 tsp cinnamon
1/2 tsp cloves (I used allspice)
1/2 cup water

Cream together shortening (or butter) and sugar; beat in egg. Stir in molasses. Sift dry ingredients; add alternately with water. Drop from teaspoon onto greased cooky (I love the way they spell that!) sheet. Bake at 400 about 8 minutes. Makes 3 dozen.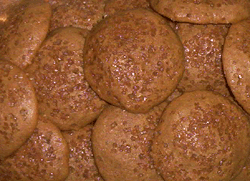 Aren't they just the cutest little things? I guess I made them a little smaller than Betty Crocker did, because I ended up with four dozen cookies about the same size as 'Nilla Wafers.

The recipe suggested frosting, but I just didn't feel like frosting. Instead, I sprinkled the unbaked cookies with some turbinado sugar. It made them just a little sparkly (bling) and just a little crunchy. Other than the crunch of the sugar, these are soft, cakey, spicy little cookies -- just the thing for a spicy-sweet phase!

Note: DO NOT OVERBAKE the cookies, or they will be hard and dry. I know this because I overbaked my first batch just a little. I think it was because they were smaller than the recipe suggested. I found that 6 or 7 minutes was plenty for the remaining batches.
Posted at 6/23/2005 10:30:14 pm by
KelliMelli