I've been tagged by Alice for the "Cook Next Door" meme. Since today is too hot too exist, let alone cook, it's a perfect day for a meme. =) So, here goes!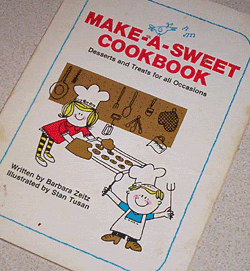 One of my first cookbooks!


What is your first memory of baking/cooking on your own?

I had a Disney cookbook that I loved (I so wish I could find it now. I'm sure it's packed away and either at my parents' house, or at my dad's store...), and there was a rolled sugar cookie recipe that my brother and I liked to make. The book even included patterns of Disney characters that we traced and cut around. Who needs cookie cutters? We thought it was the greatest thing ever.

Who had the most influence on your cooking?

Hmmm... my mom used to cook a lot of really cool things when I was a kid (homemade doughnuts, anyone?), but I never truly appreciated those things until adulthood, long after she got bored with cooking. Ah, nostalgia. But I think I'll have to say (without sounding vain, I hope!) that I have the most influence over my cooking. I fell in love with baking and cooking about ten years ago, shortly after "going veg." I had to learn a whole new way of life, having been brought up on a meat and potatoes diet. Now I have a fascination with vegetarian food, of course, as well as ethnic cuisine, organic foods, and nutrition.

I guess I should add that in more recent years, Food TV has had a profound effect on me, too. =)

Do you have an old photo as evidence of an early exposure to the culinary world and would you like to share it?

I don't know that any pictures of me cooking even exist... and if they do, my parents would have custody of them... 240 miles away. =(

Mageiricophobia - do you suffer from any cooking phobia, a dish that makes your palms sweat?

Deep frying. I made some of Sara Moulton's Parsley Fried Onion Rings a couple years ago, and I am still reeling from the experience. They were good -- Kevin especially loved them -- but all that bubbling fat was just terrifying to me. My kitchen was greasy for months.

What would be your most valued or used kitchen gadgets and/or what was the biggest letdown?

I have far too many gadgets! I'll try to narrow it down, though. My purple mixer -- I mean robot (a term I picked up from Estelle)-- of course, my bread machine, my Braun coffee/spice grinder, my Silpats, my cookie dough scoops (in varying sizes!), and the ever-popular Microplane grater. My Microplane is cooler than anyone else's, though: it has two interchangeable blades! I got it at Bed, Bath and Beyond a couple years ago, and I've never seen another one since.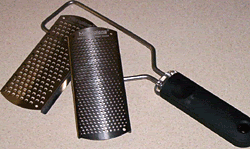 As far as disappointments... hand blenders. You know, the things Emeril calls "boat motors." I've owned two or three of varying technology and power, and just never fell in love with any of them. I prefer a Foley Food Mill or a ricer. Or my good old Oster purple blender.

Name some funny or weird food combinations/dishes you really like - and probably no one else!

I like to take apart my Oreos, spread on a little peanut butter, reassemble, and enjoy. I've been doing it for 15 years. Now Nabisco makes PB creme Oreos, but I bet they're not half as good. Also, I like to dip my french fries in sweet and sour sauce. And when I was a kid, I dipped everything in French dressing: chicken, hamburgers, carrots...

What are the three eatables or dishes you simply don't want to live without?

Bread, fruit, and cheese (doin' it European Market style!).

Any question you missed in this meme, that you would have loved to answer? Well then, feel free to add one!
Three quickies:
Your favorite ice-cream?

No question: Gifford's of Maine's Almond Joy. Vanilla ice cream, coconut, and chocolate-covered almonds. Don't try to fake me out with any chocolate chips and uncoated almonds, anyone!

You will probably never eat?

Duh -- meat!!! And goat cheese. Yuck.

Your own signature dish?

"Spicy Fu!"

Question added by Zarah: On average, how many times a week would you cook something to satisfy your sweet tooth?

Twice. At least. Anyone who reads this blog knows that! =)

Question added by Cathy: What do you usually eat for breakfast?

I rotate through phases. My most popular? 1) Toast. 2) Yogurt, fruit, and granola. 3) Brown Sugar and Oat Total with milk and bananas. And 4) pancakes or waffles on the occasional wekend.

Question added by Alice: What are your stand-by dinner options when you don't have the time or the inclination to follow or create a new recipe?

Spaghetti. Or grilled cheese. Or Freschetta pizza.

And, last but not least: Tag three people!

I'll try Ali, Ana, and The Baker who Cooks. Wish me luck!
Posted at 6/25/2005 7:54:38 pm by
KelliMelli
Estelle


July 9, 2005 10:11 PM PDT



I had meant to leave a comment for a while: in French, we call any electric food-processing item a "robot". A food-processor = robot, a stand-aid mixer = le robot KitchenAid ;-)
I had never thought of how fun this sounded until you left a comment on my blog. Ah, fresh looks, they bring a new perspective to so much!
wenders


June 27, 2005 04:23 PM PDT



Hi! We stay near South Bristol...Maine really is one of my all time favorite places on earth!
Dani


June 27, 2005 10:12 AM PDT



Love your meme and thanks for you kind sweater comments... You have a purple mixer!?!?
Zarah Maria


June 26, 2005 04:01 PM PDT



I have one of those Microplaners too! Mine has a blue handle though, and I haven't seen it anywhere else either - we're lucky people Kelli!:-)
Ana


June 26, 2005 09:23 AM PDT



Thanks Kelli for tagging me. I'll get on to it right away.
Alicat


June 26, 2005 12:03 AM PDT



Hey there Girlie! I am a sneak, I always put in a fake email for comments on posts, or anything of that sort..so I'm afraid it wouldn't have done you any good! ;) Tra la la..thanks for the tag! :)