It was cold here Sunday. Rumor has it that it was the coldest day of the season! Temps were in the teens, and wind chills hovered around zero (and lower!) all day. My cousin Sarah and I braved the cold, though, both being good, tough Mainers, and went into Boston for a little window shopping. We had some nice tea at Teavana, but decided we needed more. We needed chocolate. Off to Trader Joe's (don't tell my co-workers)! But nothing appealed to us there. We wanted brownies. Fortunately I have a super-quick, super-easy brownie recipe in my stash. This one comes from Allrecipes (shocking, I know). What I like about it is that it calls for cocoa powder rather than baking chocolate. I always have cocoa powder in the house. How convenient! And, as an extra added bonus, these brownies have frosting. Who could resist? So, after steaming mugs of Jacques Torres' Wicked Hot Chocolate, we went to work. The picture isn't much to look at, but don't worry... the brownies are excellent.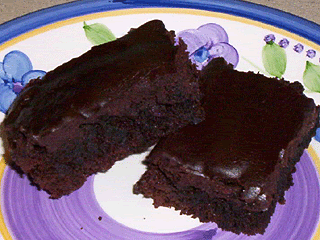 Best Brownies

1/2 cup butter
1 cup white sugar
2 eggs
1 teaspoon vanilla extract
1/3 cup unsweetened cocoa powder
1/2 cup all-purpose flour
1/4 teaspoon salt
1/4 teaspoon baking powder
3 tablespoons butter, softened
3 tablespoons unsweetened cocoa powder
1 tablespoon honey
1 teaspoon vanilla extract
1 cup confectioners' sugar

Preheat oven to 350 degrees F (175 degrees C). Grease and flour an 8 inch square pan.
In a large saucepan, melt 1/2 cup butter. Remove from heat, and stir in sugar, eggs, and 1 teaspoon vanilla. Beat in 1/3 cup cocoa, 1/2 cup flour, salt, and baking powder. Spread batter into prepared pan.
Bake in preheated oven for 25 to 30 minutes. Do not overcook.
To Make Frosting: Combine 3 tablespoons butter, 3 tablespoons cocoa, 1 tablespoon honey, 1 teaspoon vanilla, and 1 cup confectioners' sugar. Frost brownies while they are still warm.