Bubble, bubble, toil and trouble...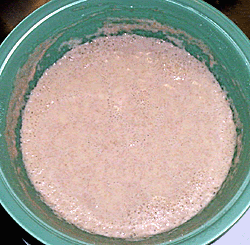 Mmm... frothy! I know, it didn't look too frothy in that picture, but trust me -- it was. So, on to steps 2, 3, and half of 4 from the
Berkeley sourdough recipe
. Sort of. I, of course, used my bread machine instead of a food processor or mixing by hand. I put 3/4 cup of the "sponge," 3/4 cup water, 1 1/2 tsp salt, 1 1/2 cups AP flour, and 1 cup whole-wheat flour into the machine and let it mix and knead for about 15 minutes. The dough came out a bit sticky, and a little softer than I think it should be...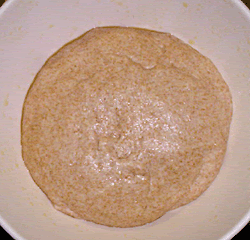 That's one relaxed lump of dough!



See how flat it looks? It spread out in the bowl as soon as I dumped it out of the machine. I had a lot more of the "sponge" than I needed for one batch, so I decided to throw together some more dough. I put a couple extra tablespoons of flour in it, and it came out a little more solid: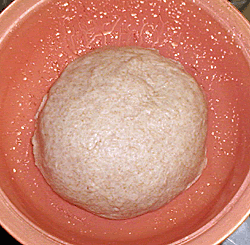 That's more like it!

This batch held its shape a bit better. Both dough balls are in oiled bowls, covered with plastic wrap, in the fridge for the night. I don't think the softer, stickier batch will be too much different once all is said and done, but it will be interesting to see just what happens. They get to hang out in the fridge until about 9 tomorrow (Saturday) morning, then they'll sit out at room temp for a couple of hours. Then it'll be time to shape them, let them rise 6-7 more hours, and bake them! This is getting
exciting
...! =)
Posted at 9/17/2004 8:54:07 pm by
KelliMelli