---
About Me
---
My Other Blog
---
An Amazingly Accurate Representation of ME!
Created at...
Portrait Illustration Maker
---
Today I Feel...


---

Bangor, Maine
Current Conditions
---
New York, New York
Current Conditions
---
My Favorite Food Blogs:

Bento TV
Diary of the Food Whore
A Finger in Every Pie
Le hamburger et le croissant
My Little Kitchen
The Red Kitchen
Super Eggplant
Vegan Lunchbox

---
Other Sites I Frequent:
Delicious TV
Food Network
Food Porn Watch
Geocaching
Knitting Sunshine
Stories from the Gymrat
WABI TV5
The Way Life Is
---
---
---
RSS Feed
(This is new to me, but I think it will work!)
---
---
All content on "Culinary Epiphanies," including all text, photographs, images and any other original works (unless otherwise noted), is copyrighted © 2004 - 2009 by Kelli Hanson, with all rights reserved. Please contact me for permission to copy, publish, broadcast, distribute or display the work.
---
---
Contact Me
Thursday, June 02, 2005
I saw the strangest thing at the grocery store today: "low carb" potatoes. What's the point?!?
Posted at 6/2/2005 3:17:29 pm by
KelliMelli
Permalink
Wednesday, June 01, 2005
... birthday? Blogday? Anniversary? Bloggiversary? Whatever you choose to call it, Culinary Epiphanies is
one year old
today! I won't go on for pages and pages, waxing poetic about the first year, the experience, what has happened, and what will happen. Instead, I will simply celebrate with cake. Of course, those of you who know me know that I am far from ordinary. So why would I just bake an ordinary cake for my blog's birthday? Instead, I made something that combines several of my favorite things: cinnamon,
corn meal
, and custard/pudding cake! I think that custard/pudding cakes are my new addiction (see "lime custard pudding cake"
here
).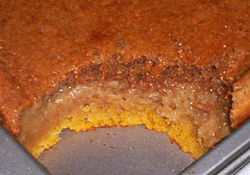 Layers are always in style in my kitchen!

Cinnamon Custard Corn Bread
from "
More Lean and Luscious
" by Bobbie Hinman and Millie Snyder
5-1/4 oz yellow corn meal
1/2 cup all-purpose flour
1/2 cup minus 1 tbsp whole-wheat flour
1 tbsp ground cinnamon
2 tsp baking powder
1 egg, slightly beaten
1-1/2 tsp vanilla extract
1/4 cup margarine, melted (I used butter)
1/4 cup brown sugar
3 cups skim milk (I used 1%)
Preheat oven to 350.
In a large bowl, combine corn meal, both flours, cinnamon, and baking powder. Mix well.
In another bowl, combine remaining ingredients. Mix with a wire whisk until blended. Add to dry mixture. Beat with whisk until lumps are gone.
Pour into an 8-inch square glass pan (I used nonstick metal. I can't believe I don't have a square glass pan!) that has been sprayed with a nonstick cooking spray.
Bake 45 minutes, until firm.
Cool in pan.
This smelled good even as I was just starting to mix the dry ingredients. Can you imagine how good it smelled while it baked? Yum.
Now... who was supposed to bring the ice cream?!?
Honestly, though, it's a bit disappointing. It needs a lot more cinnamon to qualify as
cinnamon
custard corn bread. It didn't satisfy my desire for something spicy (that doesn't cost
fourteen dollars a loaf
!). We'll see what I can come up with tomorrow.
---
Ooohhh... there's a brand-new episode of
Good Eats
on right now.
AB
's gone all film-look!
Posted at 6/1/2005 10:03:36 pm by
KelliMelli
Permalink
Monday, May 30, 2005
Yes, there is, in fact, a correct way to pronounce "ssshOCKing." If you know my friend Kim, you know what it is. Otherwise... oh well.

So what, you ask, is so ssshOCKing? I went to a local Farmer's Market today, held just a few blocks away from casa del K & K, that shall remain nameless. I wasn't expecting much, it being spring and all, and I was right. But a local bakery that shall remain nameless had a booth there. I've been meaning to check out this bakery for quite some time. I got a small taste of what they do today. How cool! There were lots of yeast breads and fancy breads and rustic breads, and also some quick breads. The quick breads sounded quite intriguing: vanilla bean cake loaf and pain d'epice. Yes, of course I've heard of pain d'epice. But I had never had it until I got a little sample today. It was good -- moist, spicy, and orangey. Kind of a kicked-up gingerbread. I love gingerbread.

Are you ready for the ssshOCKing part? The quick breads were $14 a loaf. Yes, you read that correctly: fourteen dollars a loaf. What could possibly be in that bread to make it worth fourteen dollars a loaf?!? Even if every ingredient is fresh, pure, and as organic as organic as it gets (which I don't think it was!), there's no way in Oklahoma that it could be worth fourteen dollars a loaf! How can anyplace get away with charging fourteen dollars a loaf for quick bread?!? I refuse to buy it at the grocery store for $3 a loaf, because I think that's exorbitant. But fourteen? dollars? a loaf? Wow. Even if that pain d'epice was imported from France, this morning, on a specially resurrected Concorde, it couldn't possibly be worth fourteen dollars a loaf. Could it? And I know vanilla is rather expensive as of late, but really.

Needless to say, I was shocked. Stunned. Floored. Amazed. Fourteen dollars a loaf? It's quick bread!

I am so totally baking something spicy tomorrow.
Posted at 5/30/2005 10:58:23 pm by
KelliMelli
Permalink
Sunday, May 29, 2005
I've been wondering this on and off for a couple of months, but it never occurred to me until now to actually post this question: are there any Boston-based food bloggers out there (besides me, and I certainly don't consider myself an actual Bostonian!)? I know there aren't many (if any, besides me, sort of) from Maine, but there are more people in greater Boston than in the entire state of Maine! Or here's an even simpler question: is there anyone from Boston even visiting this site? I mean, really... I'm in the Big City now. I can't possibly be totally alone here, can I!

I've already found more Boston area knitbloggers than I can keep up with.

Just curious.

PS: Dani -- I haven't forgotten about you. I will write back soon! =)
Posted at 5/29/2005 8:11:19 pm by
KelliMelli
Permalink
Friday, May 27, 2005
I was sitting in my living room last night, desperately craving chocolate (which, believe it or not, really doesn't happen to me very often!). All I had in the house to fit the bill was a bag of chocolate chips. Boring! But wait... there was also a can of sweetened condensed milk in the cupboard. Hmmm... the wheels started to turn. I had a vague memory of a fudge-like confection my mom and I used to make in the microwave, using those exact ingredients! A quick Google search turned up lots of matches. I chose the version from Cooking for Engineers, since I kinda like their site (even though I'm about as far from engineer material as it gets). You can find the original recipe here -- the page that comes up looks at first to be blank, but just scroll down a bit -- and here's my extra-crispy version.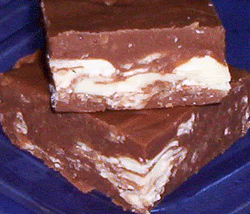 Pseudo-Fudge
(no-boil, no candy thermometer fudge!)

3 cups chocolate chips -- I used 2 cups milk chocolate and 1 cup white
1 14-oz can sweetened condensed milk
4 tbsp unsalted butter


Melt milk chocolate chips, milk, and butter together in microwave or over double boiler. Stir until well combined.

Melt white chips in separate container, then swirl into milk chocolate mixture.

Spread mixture into prepared 8x8 pan (I oiled mine, then lined it with waxed paper for easy candy removal). Chill at least 2 hours, until cooled and set.

Makes 16 2x2-inch squares.


I really only used the white chocolate chips because I didn't have enough milk chocolate, but the swirled effect is pretty cool! Because the white chips weren't actually mixed with the milk and butter, there's quite a contrast in texture between the milk and white chocolate parts of the candy -- the milk part is soft and chewy, while the white is quite crunchy. Fun!
Posted at 5/27/2005 9:50:14 pm by
KelliMelli
Permalink