---
About Me
---
My Other Blog
---
An Amazingly Accurate Representation of ME!
Created at...
Portrait Illustration Maker
---
Today I Feel...


---

Bangor, Maine
Current Conditions
---
New York, New York
Current Conditions
---
My Favorite Food Blogs:

Bento TV
Diary of the Food Whore
A Finger in Every Pie
Le hamburger et le croissant
My Little Kitchen
The Red Kitchen
Super Eggplant
Vegan Lunchbox

---
Other Sites I Frequent:
Delicious TV
Food Network
Food Porn Watch
Geocaching
Knitting Sunshine
Stories from the Gymrat
WABI TV5
The Way Life Is
---
---
---
RSS Feed
(This is new to me, but I think it will work!)
---
---
All content on "Culinary Epiphanies," including all text, photographs, images and any other original works (unless otherwise noted), is copyrighted © 2004 - 2009 by Kelli Hanson, with all rights reserved. Please contact me for permission to copy, publish, broadcast, distribute or display the work.
---
---
Contact Me
Monday, May 30, 2005
Yes, there is, in fact, a correct way to pronounce "ssshOCKing." If you know my friend Kim, you know what it is. Otherwise... oh well.

So what, you ask, is so ssshOCKing? I went to a local Farmer's Market today, held just a few blocks away from casa del K & K, that shall remain nameless. I wasn't expecting much, it being spring and all, and I was right. But a local bakery that shall remain nameless had a booth there. I've been meaning to check out this bakery for quite some time. I got a small taste of what they do today. How cool! There were lots of yeast breads and fancy breads and rustic breads, and also some quick breads. The quick breads sounded quite intriguing: vanilla bean cake loaf and pain d'epice. Yes, of course I've heard of pain d'epice. But I had never had it until I got a little sample today. It was good -- moist, spicy, and orangey. Kind of a kicked-up gingerbread. I love gingerbread.

Are you ready for the ssshOCKing part? The quick breads were $14 a loaf. Yes, you read that correctly: fourteen dollars a loaf. What could possibly be in that bread to make it worth fourteen dollars a loaf?!? Even if every ingredient is fresh, pure, and as organic as organic as it gets (which I don't think it was!), there's no way in Oklahoma that it could be worth fourteen dollars a loaf! How can anyplace get away with charging fourteen dollars a loaf for quick bread?!? I refuse to buy it at the grocery store for $3 a loaf, because I think that's exorbitant. But fourteen? dollars? a loaf? Wow. Even if that pain d'epice was imported from France, this morning, on a specially resurrected Concorde, it couldn't possibly be worth fourteen dollars a loaf. Could it? And I know vanilla is rather expensive as of late, but really.

Needless to say, I was shocked. Stunned. Floored. Amazed. Fourteen dollars a loaf? It's quick bread!

I am so totally baking something spicy tomorrow.
Posted at 5/30/2005 10:58:23 pm by
KelliMelli
Permalink
Sunday, May 29, 2005
I've been wondering this on and off for a couple of months, but it never occurred to me until now to actually post this question: are there any Boston-based food bloggers out there (besides me, and I certainly don't consider myself an actual Bostonian!)? I know there aren't many (if any, besides me, sort of) from Maine, but there are more people in greater Boston than in the entire state of Maine! Or here's an even simpler question: is there anyone from Boston even visiting this site? I mean, really... I'm in the Big City now. I can't possibly be totally alone here, can I!

I've already found more Boston area knitbloggers than I can keep up with.

Just curious.

PS: Dani -- I haven't forgotten about you. I will write back soon! =)
Posted at 5/29/2005 8:11:19 pm by
KelliMelli
Permalink
Friday, May 27, 2005
I was sitting in my living room last night, desperately craving chocolate (which, believe it or not, really doesn't happen to me very often!). All I had in the house to fit the bill was a bag of chocolate chips. Boring! But wait... there was also a can of sweetened condensed milk in the cupboard. Hmmm... the wheels started to turn. I had a vague memory of a fudge-like confection my mom and I used to make in the microwave, using those exact ingredients! A quick Google search turned up lots of matches. I chose the version from Cooking for Engineers, since I kinda like their site (even though I'm about as far from engineer material as it gets). You can find the original recipe here -- the page that comes up looks at first to be blank, but just scroll down a bit -- and here's my extra-crispy version.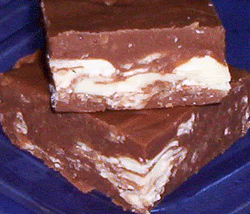 Pseudo-Fudge
(no-boil, no candy thermometer fudge!)

3 cups chocolate chips -- I used 2 cups milk chocolate and 1 cup white
1 14-oz can sweetened condensed milk
4 tbsp unsalted butter


Melt milk chocolate chips, milk, and butter together in microwave or over double boiler. Stir until well combined.

Melt white chips in separate container, then swirl into milk chocolate mixture.

Spread mixture into prepared 8x8 pan (I oiled mine, then lined it with waxed paper for easy candy removal). Chill at least 2 hours, until cooled and set.

Makes 16 2x2-inch squares.


I really only used the white chocolate chips because I didn't have enough milk chocolate, but the swirled effect is pretty cool! Because the white chips weren't actually mixed with the milk and butter, there's quite a contrast in texture between the milk and white chocolate parts of the candy -- the milk part is soft and chewy, while the white is quite crunchy. Fun!
Posted at 5/27/2005 9:50:14 pm by
KelliMelli
Permalink
Wednesday, May 25, 2005
It's March, right? It must be. I'm sitting in a chair in the living room, wearing flannel clothing, wrapped up in a feece blanket. Torby is snuggled under the blanket with me, Whisper is under the bedcovers, Jazz is hiding in a box full of still-yet-to-be-unpacked clothes, and Nugget is curled up in her fleecy bed. It's gray, windy, and rainy outside. The temperature is 45, with wind gusts up to 35 mph, making for a 36 degree wind chill. Wind chill? Isn't this supposed to be May? Isn't June a week away? It's been like this for almost a week, and will continue to be like this for a few more days. Didn't I just move 250 miles south of Maine? It was ten degrees warmer in Bangor than in Boston yesterday!

It better not be 90 next week.

The weather (or something!) is making me restless... giving me ADD. I don't have any interest in undertaking any major projects, but I can't sit still. I'm knitting what could be a record-setting item: "and now, setting the record for slowest knitter, kerchief category, Kelli Hanson!" I've been working on the "Kitschy Kerchief" from "Stitch 'n Bitch" for a week, and I can only stand to do a couple rows at a time. Also, this is great reading weather, but again -- no attention span. A chapter here, a chapter there is as much as I can deal with. Sleeping I can handle. 10 hours a night, anyone?

Fortunately, I can also handle baking. I made some kick-ass bread last night, and -- are you ready for this one? I didn't use my bread machine. That's right. I made bread by hand. Well, OK -- the purple mixer had a little something to do with the process. You'll see why in the recipe...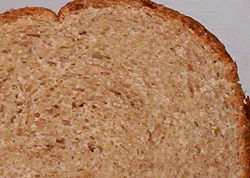 Overnight Sesame-Honey Oatmeal Bread
from "The Pleasure of Whole-Grain Breads" by Beth Hensperger

"This bread is made with the old-fashioned CoolRise(R) method developed by the Robin Hood Flour Company in the early 1970s. The dough is prepared one day and baked the next, a process that fits nicely into a busy schedule."

makes 2 9-by-5-inch loaves

2 cups boiling water
1 cup rolled oats
6 tbsp (3/4 stick) unsalted butter
2/3 cup warm water (105 - 115F)
1-1/2 tbsp (scant 2 pkgs) active dry yeast
1/2 cup honey
6 to 6-1/2 cups bread flour
1/3 cup sesame seeds
2-1/2 tsp salt
1 tbsp canola oil, for brushing
1 tbsp honey mixed with 1 tbsp hot water, for brushing

1. In a large bowl using a wooden spoon or in the bowl of a heavy-duty electric mixer fitted with the paddle attachment, combine the boiling water, oats, and butter. Stir to melt the butter and let stand until warm, about 30 minutes.

2. Pour the warm water into a small bowl or 1-cup liquid measuring cup. Sprinkle the yeast and drop a bit of the honey over water. Stir to dissolve and let stand at room temperature until foamy, about 10 minutes.

3. Add the remaining honey, 1 cup of the bread flour, the sesame seeds, and the salt to the warm oat mixture. Beat for 1 minute, or until smooth. Add the yeast mixture; beat for 1 minute longer. Add the remaining bread flour, 1/2 cup at a time, beating on low speed until a soft, shaggy dough that just clears the sides of the bowl forms, switching to a wooden spoon when necessary if making my hand.

4. Turn the dough out onto a lightly floured work surface and knead until smooth, soft, and springy, 1 to 2 minutes for machine-mixed dough and 3 to 5 minutes for a hand-mixed dough, dusting with flour only 1 tablespoon at a time, just enough as needed to prevent sticking. Do not add too much flour or the dough will stiffen up. Cover with a clean towel and let rest on the work surface for 30 minutes.

5. Generously grease the bottom and sides of two 9-by-5-inch loaf pans. Divide the dough into two equal portions. Pat each into a flat, fat oval and fold over to make a loaf with a thick folded seam down the center. Place in the prepared pans, seam side up. Generously brush the tops with canola oil. Cover loosely with plastic wrap, allowing for expansion, and refrigerate until the dough rises above the rims of the pans, at least 2 hours or up to 24 hours.

6. Remove the loaves from the refrigerator, uncover, and let stand at room temperature for 1-1/2 hours. About 20 minutes before baking, preheat an over to 375 and position a rack in the center of the oven.

7. Brush the tops of the loaves with the honey mixture. Bake for 55 to 65 minutes, or until the tops are light brown and the loaves sound hollow when tapped with your finger. Cover loosely with aluminum foil halfway through baking if the loaves brown too much. Remove from the pans to cool on a rack.

My changes: a) I used 3 cups whole-wheat floiur and 3-1/2 cups bread flour.

b) As soon as the dough started to come together, I switched from the paddle to the dough hook until all the flour was incorporated.

c) I found that the dough needed a full-on kneading (which yes, I did by hand, thankyouverymuch!), about 20 minutes, before it seemed like it was ready. I can't imagine how it would have come out if I'd only kneaded for 1 or 2 minutes!

d) Call me stupid, but I couldn't figure out that whole folded seamy formation thing. I formed the loaves my usual way -- roll the dough out into a rectangle, then roll it up, jelly-roll style, into a loafy-looking loaf.

e) I was, of course, a bit impatient with that whole "CoolRise(R)" thing, since really, just how busy is my schedule right now? I let the formed dough rise in the fridge for almost 2 hours, then on the counter for an hour or so, then in my slightly warmed oven for close to an hour. When it seemed like the dough didn't want to rise any more, I baked it off.

I have a new favorite bread.

I'm sure it doesn't hurt that it's full of some of my favorite things: honey, sesame seeds, and oats. Talk about chewy and seedy! The only change I would make would be to bake it at 350 instead of 375. My 9x5 pans are just dark enough so that the bread turned out a little crustier than I generally prefer. And I would probably use more whole-wheat flour and less bread flour, just because that's how I am. Other than that, this is bread perfection.
Posted at 5/25/2005 8:30:10 pm by
KelliMelli
Permalink
Monday, May 23, 2005
These are the cookies I had planned to bake last Friday (before my
plans changed
):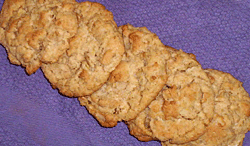 Coconut Oatmeal Cookies
(from
allrecipes.com
, edited by
me
)
1/2 cup shortening (yes, I use organic shortening)
1 cup packed brown sugar
1 cup white sugar
2 eggs
1 teaspoon vanilla extract
1/2 cup butter
2 cups all-purpose flour (I used 1 cup AP flour and 1 cup whole-wheat flour)
1 cup flaked coconut (I used the toasty leftovers from Friday's dessert)
1 teaspoon baking powder
1 teaspoon baking soda
2 cups rolled oats (for fun and texture, I used 1 cup quick oats and 1 cup thick oats -- how poetic)
* I also added a pinch of salt because, really -- who bakes without it?!?
Preheat oven to 350 degrees F (175 degrees C).
In a medium mixing bowl cream shortening, butter, and sugars. Add eggs and vanilla until blended. Set aside.
In a separate bowl, combine dry ingredients, withholding the coconut until all other dry ingredients are blended. Add coconut.
Combine wet and dry ingredients until moist. Drop on greased cookie sheet about 1-2 inches apart (because I like thick, chewy cookies, I let the dough chill for a few minutes before baking). Bake for 10 minutes or until golden. Remove from oven immediately - if overcooked, cookies get HARD. Let cool on cookie sheet for 5 minutes before removing to cooling rack. Makes about 42 cookies.

Yes -- they're as good as you think they must be. =)
Posted at 5/23/2005 10:48:15 pm by
KelliMelli
Permalink