---
About Me
---
My Other Blog
---
An Amazingly Accurate Representation of ME!
Created at...
Portrait Illustration Maker
---
Today I Feel...


---

Bangor, Maine
Current Conditions
---
New York, New York
Current Conditions
---
My Favorite Food Blogs:

Bento TV
Diary of the Food Whore
A Finger in Every Pie
Le hamburger et le croissant
My Little Kitchen
The Red Kitchen
Super Eggplant
Vegan Lunchbox

---
Other Sites I Frequent:
Delicious TV
Food Network
Food Porn Watch
Geocaching
Knitting Sunshine
Stories from the Gymrat
WABI TV5
The Way Life Is
---
---
---
RSS Feed
(This is new to me, but I think it will work!)
---
---
All content on "Culinary Epiphanies," including all text, photographs, images and any other original works (unless otherwise noted), is copyrighted © 2004 - 2009 by Kelli Hanson, with all rights reserved. Please contact me for permission to copy, publish, broadcast, distribute or display the work.
---
---
Contact Me
Tuesday, June 14, 2005
It was about 80 degrees and very humid when I tried to go to bed at 8 last night.
It was about 80 degrees and very humid as I lay awake at 9 last night.
And at 10 last night.
And at 11 last night.
I think I finally fell asleep around midnight, at which point it was still about 80 degrees. And very humid.
I had to get up at 4 this morning for work.
At which point it was about 75 degrees. And humid.

Today's forecast was for high humidity and temps near 90, with some cooler air finally moving in tonight.

As I walked home from work at 9:30 this morning, it rained. Then it poured. Then it stopped. The sun came out and I prepared myself for a steamier than ever 90 degree day.

And then a breeze moved in.

And then the temperature started to drop.

It is currently 66 degrees in Cambridge. And pretty humid. But it's only 66 degrees!

The rest of the week looks to be much the same.

YAY!!!

I won't even complain about the scattered showers that are in the forecast for the next few days.
Posted at 6/14/2005 1:27:34 pm by
KelliMelli
Permalink
Sunday, June 12, 2005
Remember a couple of weeks ago, when I was
complaining
about how cold and rainy it was in Boston? Well, now I'm going to complain about how hot and sticky it is here. I hate this weather. It's been in the upper 80s all week, and very humid. I don't deal well with this weather at all! It drains me of the already very scarce energy I normally have, and it aggravates my asthma. And don't get me started on the pollen count. We
really
need an air conditioner.
Despite the heat, I've still been baking. I need something sweet to snack on, no matter what the weather! I wait until the sun goes down and the temperature drops to the mid 70s, and then my purple mixer and I go to town! So 10:30 last night found me flipping through cookbooks, looking for a treat. I ended up with this recipe from the old Better Homes and Gardens cookbook I stole -- I mean borrowed -- from my mom...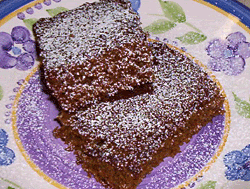 Molasses Cake Bars

1/2 cup shortening
1/2 cup sugar
1 egg
1/2 cup light molasses
1/2 cup water
* I also added 1 tsp vanilla, for reasons only I can understand =)
1-1/2 cups sifted all-purpose flour
1/2 tsp salt
1-1/2 tsp baking powder
1/4 tsp baking soda
1 tsp instant coffee (I don't have any, so I just left it out)
1 tsp ground cinnamom
1/2 tsp cloves (I used allspice instead)
Thoroughly cream shortening and sugar; add egg; beat well. Mix in molasses and water (and vanilla!). Sift together remaining ingredients. Stir into creamed mixture. Pour into greased 13x9x2-inch pan. Bake at 350 for 25 minutes. Cool, cut in squares. Makes 2 dozen.
The recipe also recommended frosting the squares with Confectioner's Icing (also in the book), but I lacked the motivation (and the milk!) to do so. Instead, I dusted the tops of the bars with a mixture of confectioner's sugar and cinnamon. You'd never miss the icing.
These bars were in the "bar cookie" section of the book, but they're cake -- plain and simple. Not that I'm complaining! They're awesome -- soft, light, fluffy, and spicy (finally -- something spicy that doesn't cost
fourteen dollars a loaf
!). And they got even moister overnight! I guess the humidity is good for something. The bars were very quick to make, which is a huge bonus in this weather. This will be a fun recipe to play with -- I think whole-wheat flour would work very well for at least part, if not all, of the AP flour. And wouldn't it be interesting to experiment with applesauce as a substitute for some or all of the shortening? Hmmm... suddenly, these seem to be turning into my
apple gingerbread bars
!
Posted at 6/12/2005 8:54:17 pm by
KelliMelli
Permalink
Thursday, June 09, 2005
It Had to Happen Sooner or Later.
After 6 months of blissful (self-inflicted!) unemployment, a major move, and four weeks of not-so-blissful job hunting, I've finally rejoined the ranks of the (reluctantly) employed. I'm not exactly ready to say where I'm working since it's not in my chosen field, but I'll say this much for now: it's one of Fortune 500's totally amazingly splendiferous places to work, and I guess it vaguely counts as being food-related. Think celestial bodies and currency. And now I've said too much.
Posted at 6/9/2005 8:42:20 pm by
KelliMelli
Permalink
Wednesday, June 08, 2005
Here's something I never would have seen at the Brewer Hannaford :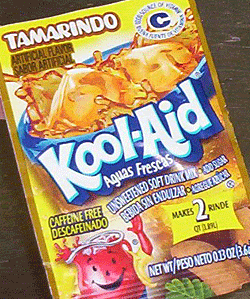 Tamarind
flavored Kool-Aid! And
en Espanol
to boot!
I haven't bought Kool-Aid in... wow. I don't even know how long. For me, it's water, iced tea, or Crystal Light. But I just couldn't resist this! I've read a lot about tamarind, but growing up in central Maine, it really wasn't a big part of my life. I know it's a tropical fruit, it's used a lot in Asian and Indian cuisines, and it's supposed to have a sweet-sour flavor. I also am pretty sure I read somewhere that tamarind was the original flavoring for cola. Is that true?
Empty the envelope into a pitcher and measure out 1 cup (ouch!) of sugar. Add water, stir, taste. Hmmm... maybe I should wait 'til it's cold? I'll withhold judgement for now.
Later... it's adequately chilled. Second taste test. Yuck!! This doesn't taste anything like cola! It's overwhelmingly sweet with a flavor far too similar to cantaloupe for my taste. Yes, I'm the only person on the planet who
hates
cantaloupe.
Well, Kevin likes it. It's almost gone. I'm back on ice water.
Posted at 6/8/2005 5:32:14 pm by
KelliMelli
Permalink
Tuesday, June 07, 2005
I was dying to bake cookies last night, but my time was otherwise occupied. This afternoon Kevin said "you should bake cookies tonight!" I told him I'd already been thinking of it, but was having a hard time choosing a recipe. He suggested something "light and fruity." I wanted to use up some of the overabundance of white chocolate chips in my kitchen. We tossed around a few ideas, and decided that a lime-flavored shortbread would be fantastic when drizzled with some melted white chocolate. So I spent the better part of the evening perusing shortbread recipes. Now, keep in mind that it was about 90 degrees in greater Boston today, and was still 80ish at 8 this evening (and now, at 11pm, it's
still
81!). I just couldn't bear the thought of fussing with shortbread. Instead, I modified
this recipe
from
Epicurious
and ended up with these super-easy drop cookies: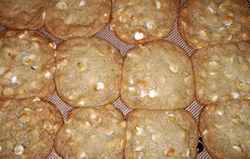 Lime-White Chocolate Chip Cookies

1 1/4 cups all purpose flour
1/2 teaspoon baking soda
1/8 teaspoon salt
3/4 cup (packed) brown sugar
1/2 cup (1 stick) unsalted butter, room temperature
zest of one lime
1 teaspoon vanilla extract
1 large egg
1 (10-12 oz) bag white chocolate chips

Preheat oven to 350°F. Combine flour, baking soda and salt in medium bowl; whisk to blend. Using an electric mixer, beat brown sugar, unsalted butter, lime zest and vanilla extract in large bowl until light and fluffy. Beat in egg. Add flour mixture and mix just until combined. Mix in chips. Let dough chill in fridge for about 15 minutes (or longer if it's as hot as it is here right now -- my cookies spread a lot more than I really wanted them to, as you can see in the picture).

Drop dough by heaping tablespoonfuls onto 2 ungreased baking sheets, spacing 2 inches apart. Bake cookies until just firm to touch and beginning to brown, about 13 minutes. Transfer to racks; cool. (Can be made 2 days ahead. Store airtight at room temperature.) Makes about 24.
The verdict? An 80 degree evening after a 90 degree day is just too damn hot to be baking. But these cookies are sooooo good!
Posted at 6/7/2005 11:12:35 pm by
KelliMelli
Permalink