---
About Me
---
My Other Blog
---
An Amazingly Accurate Representation of ME!
Created at...
Portrait Illustration Maker
---
Today I Feel...


---

Bangor, Maine
Current Conditions
---
New York, New York
Current Conditions
---
My Favorite Food Blogs:

Bento TV
Diary of the Food Whore
A Finger in Every Pie
Le hamburger et le croissant
My Little Kitchen
The Red Kitchen
Super Eggplant
Vegan Lunchbox

---
Other Sites I Frequent:
Delicious TV
Food Network
Food Porn Watch
Geocaching
Knitting Sunshine
Stories from the Gymrat
WABI TV5
The Way Life Is
---
---
---
RSS Feed
(This is new to me, but I think it will work!)
---
---
All content on "Culinary Epiphanies," including all text, photographs, images and any other original works (unless otherwise noted), is copyrighted © 2004 - 2009 by Kelli Hanson, with all rights reserved. Please contact me for permission to copy, publish, broadcast, distribute or display the work.
---
---
Contact Me
Monday, June 20, 2005
My cousin Sarah and I are more like sisters than cousins. We grew up in the same town, living just a couple miles apart. Each of our houses was the other's second home. Well, OK, a lot more time was spent at her house in the summer, since it was the one with the
pool
!
Sarah moved to Boston almost 9 years ago for college, and has been here ever since. She loves it! And having her so close has made the whole moving 240 miles away from home thing a bit easier for me. But in the 6 weeks that I've lived here, would you believe we hadn't found any time to get together until yesterday?!? It's all her fault -- she's been far too busy for me, what with finishing up her first year of med school and all. Kidding. Well, kidding about it being her fault, but not about med school. I'm so proud of her!!! =) Anyway -- she finished finals on Friday, and finally got to come see me and the apartment yesterday. Yay! Company! What else could I do but
bake
for the occasion?!?
I knew I wanted a quick bread to serve with some tea. I love quick breads... but I rarely find a recipe that seems just right. After much reading of cookbooks and searching the internet, I found
the perfect recipe
at
allrecipes.com
(where else? I don't know why I even own cookbooks!).
Spiced Applesauce Bread

1 1/4 cups applesauce (I used unsweetened)
1 cup white sugar
1/2 cup vegetable oil (I'm fresh out, so I used melted shortening. It worked.)
2 eggs
3 tablespoons milk
2 cups all-purpose flour (I used 1 cup AP, 1 cup whole-wheat)
1 teaspoon baking soda
1/2 teaspoon baking powder
1/2 teaspoon ground cinnamon
1/4 teaspoon ground nutmeg
1/4 teaspoon ground allspice
1/4 teaspoon salt
Preheat oven to 350 degrees F (175 degrees C). Lightly grease a 9x5 inch loaf pan.
In a large bowl, combine the applesauce, sugar, oil, eggs and milk; beat well. Sift in the flour, baking soda, baking powder, cinnamon, nutmeg, allspice and salt; stir until smooth. Fold in the pecans. Pour batter into prepared loaf pan.
Bake in preheated oven for 60 minutes, or until a toothpick inserted into center of the loaf comes out clean.

I had a bit of a brain cramp and forgot to take pictures of the bread before it was gone (the leftovers were great for breakfast... and snacks... and, well, anytime...). But trust me -- it was beautiful... and oh-so-tasty! Sarah liked it, and it was a great complement to the fruity black tea we drank. It had a perfect balance of sweet and tart from the applesauce, and the spices added a touch of warmth. It's really hard to go wrong with that apple-spice combination, isn't it? I'm sure I'll be baking this bread again (and again, and again!), so I'll be sure to post pictures next time.
Posted at 6/20/2005 5:33:12 pm by
KelliMelli
Permalink
Saturday, June 18, 2005
Humidity + Baking -- an Interesting Combination!
This is really turning into a baking blog, isn't it? Well, baking is what I love best! Plus, with Kevin working the 3 - 11 shift at the station, we never get to have supper together, so I'm not doing an awful lot of
cooking
cooking. There's a lot of spaghetti, sandwiches, and cereal being eaten in this house. Embarrassing but true. But at least the sandwiches are being eaten on homemade bread!
Speaking of homemade bread, this is what happens when, on a humid (but blissfully cool!) day, you let your bread machine make your dough, and you forget to feel the dough partway through the process to check the water/flour balance: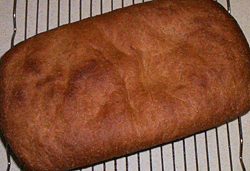 OK, so that picture doesn't quite give the full effect. But this one does: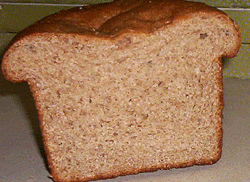 Kinda looks like a mushroom (the name of which eludes me right now), doesn't it? So, the dough has too much water, or not enough flour, depending on your view of things. It comes out too soft and sticky and the top of the loaf sinks while baking. But, much like my crazy multigrain bread, it still tastes good! This is a recipe I have made several times, usually with a bit more success...

Wheat Germ & Honey Bread

adapted from
"Smart Bread Machine Recipes"
by Sandra L. Woodruff
makes 1 1-1/2 pound loaf
2 cups whole-wheat flour
1 cup unbleached bread flour
4-1/2 tbsp toasted wheat germ
1-1/2 tbsp vital wheat gluten
1-/2 tsp yeast
3/4 tsp sea salt
3 tbsp honey
1-1/2 tbsp lecithin granules or vegetable oil
1-1/4 cups water
Mix dough in machine, then bake in machine or in a 9x5 pan, in a 350 oven for 35 - 45 minutes.
Posted at 6/18/2005 11:05:25 pm by
KelliMelli
Permalink
Friday, June 17, 2005
I Never Expected to Use This Phrase!
But here goes: "thank you,
Rachael Ray
."
For what, you ask? For pointing out that I can roast marshmallows over the open flames that my gas stove shoots out!
Yes, this is the first time in my entire life that I've ever had a gas stove.
And yes, I know that commercial marshmallows contain gelatin, of which I am generally deathly afraid. Let me just say that I've never claimed to be a perfect vegetarian. Everyone needs a good toasted marshmallow once in a while. I
hate
them raw, however.
While I'm in this weakened state, I will also admit that I love Rachael's
recipe for stuffed shells and tomato sauce
.
I'm so ashamed.
Posted at 6/17/2005 7:08:38 pm by
KelliMelli
Permalink
Thursday, June 16, 2005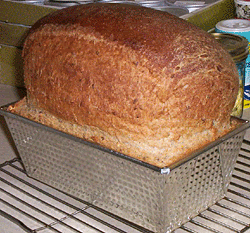 Hmmm... do you think I should have used a bigger pan? I don't know what I was thinking that day! I know perfectly well that a pound and a half of bread dough needs a 9x5 pan, not an 8x4!
Actually, I do know what I was thinking. The dough didn't rise much during its first proof, so I figured it wouldn't rise much during the second, either. I used more whole-wheat flour and less bread flour than the recipe calls for. I thought it would just be a nice, dense, seedy-grainy loaf. Obviously I was wrong. But it still tasted good! This is one of my favorite breads, adapted from Tony Lacalamita's
"The All-New Ultimate Bread Machine Cookbook."

Multigrain Bread

makes 1 1-1/2 pound loaf
1 cup water
1 extra-large egg (I used a large egg, and it worked out fine!)
2 tbsp vegetable oil
1-1/2 tsp salt
3 tbsp honey
1/4 cup flax seeds (I grind mine slightly in the blender to release all that Omega-3 goodness)
2 tbsp yellow cornmeal, coarsely ground
2 tbsp rolled oats
2-1/4 cups bread flour (I use 1 to 1-1/2 cups)
3/4 cup whole-wheat flour (I use 1-1/2 to 2 cups, depending on how much bread flour I used)
2 tbsp rye flour
2-1/4 tsp dry yeast
Mix and bake in bread machine on basic cycle, normal or medium crust, or prepare dough in machine and bake in oven, in a 9x5 pan, at 350 for 35 - 45 minutes.

This was our weekly bread a couple of weeks ago. Last week, I used the 2-pound recipe and baked two loaves in 8x4 pans. They came out perfectly. =)

Up next... humidity and bread baking -- an interesting combination!
Posted at 6/16/2005 1:44:01 pm by
KelliMelli
Permalink
Tuesday, June 14, 2005
It was about 80 degrees and very humid when I tried to go to bed at 8 last night.
It was about 80 degrees and very humid as I lay awake at 9 last night.
And at 10 last night.
And at 11 last night.
I think I finally fell asleep around midnight, at which point it was still about 80 degrees. And very humid.
I had to get up at 4 this morning for work.
At which point it was about 75 degrees. And humid.

Today's forecast was for high humidity and temps near 90, with some cooler air finally moving in tonight.

As I walked home from work at 9:30 this morning, it rained. Then it poured. Then it stopped. The sun came out and I prepared myself for a steamier than ever 90 degree day.

And then a breeze moved in.

And then the temperature started to drop.

It is currently 66 degrees in Cambridge. And pretty humid. But it's only 66 degrees!

The rest of the week looks to be much the same.

YAY!!!

I won't even complain about the scattered showers that are in the forecast for the next few days.
Posted at 6/14/2005 1:27:34 pm by
KelliMelli
Permalink