---
About Me
---
My Other Blog
---
An Amazingly Accurate Representation of ME!
Created at...
Portrait Illustration Maker
---
Today I Feel...


---

Bangor, Maine
Current Conditions
---
New York, New York
Current Conditions
---
My Favorite Food Blogs:

Bento TV
Diary of the Food Whore
A Finger in Every Pie
Le hamburger et le croissant
My Little Kitchen
The Red Kitchen
Super Eggplant
Vegan Lunchbox

---
Other Sites I Frequent:
Delicious TV
Food Network
Food Porn Watch
Geocaching
Knitting Sunshine
Stories from the Gymrat
WABI TV5
The Way Life Is
---
---
---
RSS Feed
(This is new to me, but I think it will work!)
---
---
All content on "Culinary Epiphanies," including all text, photographs, images and any other original works (unless otherwise noted), is copyrighted © 2004 - 2009 by Kelli Hanson, with all rights reserved. Please contact me for permission to copy, publish, broadcast, distribute or display the work.
---
---
Contact Me
Saturday, June 25, 2005
I've been tagged by Alice for the "Cook Next Door" meme. Since today is too hot too exist, let alone cook, it's a perfect day for a meme. =) So, here goes!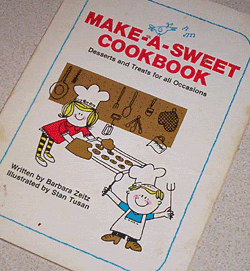 One of my first cookbooks!


What is your first memory of baking/cooking on your own?

I had a Disney cookbook that I loved (I so wish I could find it now. I'm sure it's packed away and either at my parents' house, or at my dad's store...), and there was a rolled sugar cookie recipe that my brother and I liked to make. The book even included patterns of Disney characters that we traced and cut around. Who needs cookie cutters? We thought it was the greatest thing ever.

Who had the most influence on your cooking?

Hmmm... my mom used to cook a lot of really cool things when I was a kid (homemade doughnuts, anyone?), but I never truly appreciated those things until adulthood, long after she got bored with cooking. Ah, nostalgia. But I think I'll have to say (without sounding vain, I hope!) that I have the most influence over my cooking. I fell in love with baking and cooking about ten years ago, shortly after "going veg." I had to learn a whole new way of life, having been brought up on a meat and potatoes diet. Now I have a fascination with vegetarian food, of course, as well as ethnic cuisine, organic foods, and nutrition.

I guess I should add that in more recent years, Food TV has had a profound effect on me, too. =)

Do you have an old photo as evidence of an early exposure to the culinary world and would you like to share it?

I don't know that any pictures of me cooking even exist... and if they do, my parents would have custody of them... 240 miles away. =(

Mageiricophobia - do you suffer from any cooking phobia, a dish that makes your palms sweat?

Deep frying. I made some of Sara Moulton's Parsley Fried Onion Rings a couple years ago, and I am still reeling from the experience. They were good -- Kevin especially loved them -- but all that bubbling fat was just terrifying to me. My kitchen was greasy for months.

What would be your most valued or used kitchen gadgets and/or what was the biggest letdown?

I have far too many gadgets! I'll try to narrow it down, though. My purple mixer -- I mean robot (a term I picked up from Estelle)-- of course, my bread machine, my Braun coffee/spice grinder, my Silpats, my cookie dough scoops (in varying sizes!), and the ever-popular Microplane grater. My Microplane is cooler than anyone else's, though: it has two interchangeable blades! I got it at Bed, Bath and Beyond a couple years ago, and I've never seen another one since.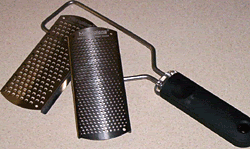 As far as disappointments... hand blenders. You know, the things Emeril calls "boat motors." I've owned two or three of varying technology and power, and just never fell in love with any of them. I prefer a Foley Food Mill or a ricer. Or my good old Oster purple blender.

Name some funny or weird food combinations/dishes you really like - and probably no one else!

I like to take apart my Oreos, spread on a little peanut butter, reassemble, and enjoy. I've been doing it for 15 years. Now Nabisco makes PB creme Oreos, but I bet they're not half as good. Also, I like to dip my french fries in sweet and sour sauce. And when I was a kid, I dipped everything in French dressing: chicken, hamburgers, carrots...

What are the three eatables or dishes you simply don't want to live without?

Bread, fruit, and cheese (doin' it European Market style!).

Any question you missed in this meme, that you would have loved to answer? Well then, feel free to add one!
Three quickies:
Your favorite ice-cream?

No question: Gifford's of Maine's Almond Joy. Vanilla ice cream, coconut, and chocolate-covered almonds. Don't try to fake me out with any chocolate chips and uncoated almonds, anyone!

You will probably never eat?

Duh -- meat!!! And goat cheese. Yuck.

Your own signature dish?

"Spicy Fu!"

Question added by Zarah: On average, how many times a week would you cook something to satisfy your sweet tooth?

Twice. At least. Anyone who reads this blog knows that! =)

Question added by Cathy: What do you usually eat for breakfast?

I rotate through phases. My most popular? 1) Toast. 2) Yogurt, fruit, and granola. 3) Brown Sugar and Oat Total with milk and bananas. And 4) pancakes or waffles on the occasional wekend.

Question added by Alice: What are your stand-by dinner options when you don't have the time or the inclination to follow or create a new recipe?

Spaghetti. Or grilled cheese. Or Freschetta pizza.

And, last but not least: Tag three people!

I'll try Ali, Ana, and The Baker who Cooks. Wish me luck!
Posted at 6/25/2005 7:54:38 pm by
KelliMelli
Permalink
Thursday, June 23, 2005
Since the next 3+ days are supposed to be hotter than eight bitches in a bitch boat (bonus points to anyone who can identify the source of that phrase!), and I had the day off today, I thought I'd get a head start on heating up the apartment. Much baking was in order. I was feeling the need to stock up! I made
spiced applesauce bread
, two loaves of next week's
Bread of the Week
(to be frozen until needed), and some yummy delicious cookies! I'll blog about the bread next week, of course, but here's the recipe for the cookies. It's another one (slightly modified by me, of course) from the Betty Crocker book I
borrowed
from my mom. =) Apparently I'm on a spicy-sweet kick...
Ginger Creams
1/4 cup shortening (I'm out, so I used butter)
1/2 cup sugar
1/3 cup molasses
1 egg
1 cup all-purpose flour
1 cup whole-wheat flour
1/2 tsp baking soda
1 tsp ground ginger
1/2 tsp cinnamon
1/2 tsp cloves (I used allspice)
1/2 cup water

Cream together shortening (or butter) and sugar; beat in egg. Stir in molasses. Sift dry ingredients; add alternately with water. Drop from teaspoon onto greased cooky (I love the way they spell that!) sheet. Bake at 400 about 8 minutes. Makes 3 dozen.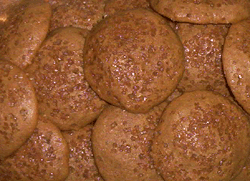 Aren't they just the cutest little things? I guess I made them a little smaller than Betty Crocker did, because I ended up with four dozen cookies about the same size as 'Nilla Wafers.

The recipe suggested frosting, but I just didn't feel like frosting. Instead, I sprinkled the unbaked cookies with some turbinado sugar. It made them just a little sparkly (bling) and just a little crunchy. Other than the crunch of the sugar, these are soft, cakey, spicy little cookies -- just the thing for a spicy-sweet phase!

Note: DO NOT OVERBAKE the cookies, or they will be hard and dry. I know this because I overbaked my first batch just a little. I think it was because they were smaller than the recipe suggested. I found that 6 or 7 minutes was plenty for the remaining batches.
Posted at 6/23/2005 10:30:14 pm by
KelliMelli
Permalink
Wednesday, June 22, 2005
It has come to my attention that as of late, I have been posting about bread quite frequently. I realized the other day that I may as well start a new feature called "Bread of the Week." I could have gone with something cutesier, like "Our Weekly Bread" or something, but I decided to keep it simple. I'm not going to lock in a specific day of the week -- my bread baking depends on my work schedule and our bread needs. All I can tell you is that there will most likely be a bread post each week. =) So, without further ado, I present this week's bread: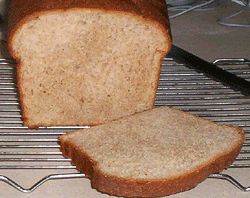 Honey-Butter-Wheat Bread

I know, it looks an awful lot like last week's bread (flat though it was!). But it's really quite different. There's something very special about this bread. I am so in love. The dough started out a typical whole-wheat bread shade of tan, turned a gorgeous saffron yellow partway through baking, and progressed into the perfect golden brown you see above. The crust is the perfect thickness. The crumb is amazingly soft and light. And, as the title suggests, it's an extremely flavorful bread. The original recipe came from one of my favorite websites (that I won't even bother to mention today), but since when do I leave a recipe alone? Here's what I did:

1 cup Cambridge tap water (can you believe I drink it?!? it's not half bad for city water)
2 tablespoons organic unsalted butter, at room temp and cut into small pieces
2 tablespoons Maine raspberry honey
1-1/2 cups whole-wheat flour
1 cup unbleached bread flour
1/3 cup dry milk powder
1 teaspoon salt
2-1/2 tsp active dry yeast

Load ingredients into bread machine pan according to manufacturer's instructions. Mix and bake in machine set to your favorite crust setting, or just use dough cycle and bake bread in a 350 oven for 35 - 45 minutes.

I think I need some toast now... with organic butter... and maybe a touch of Maine cranberry honey. Mmm...
Posted at 6/22/2005 9:28:34 pm by
KelliMelli
Permalink
Monday, June 20, 2005
My cousin Sarah and I are more like sisters than cousins. We grew up in the same town, living just a couple miles apart. Each of our houses was the other's second home. Well, OK, a lot more time was spent at her house in the summer, since it was the one with the
pool
!
Sarah moved to Boston almost 9 years ago for college, and has been here ever since. She loves it! And having her so close has made the whole moving 240 miles away from home thing a bit easier for me. But in the 6 weeks that I've lived here, would you believe we hadn't found any time to get together until yesterday?!? It's all her fault -- she's been far too busy for me, what with finishing up her first year of med school and all. Kidding. Well, kidding about it being her fault, but not about med school. I'm so proud of her!!! =) Anyway -- she finished finals on Friday, and finally got to come see me and the apartment yesterday. Yay! Company! What else could I do but
bake
for the occasion?!?
I knew I wanted a quick bread to serve with some tea. I love quick breads... but I rarely find a recipe that seems just right. After much reading of cookbooks and searching the internet, I found
the perfect recipe
at
allrecipes.com
(where else? I don't know why I even own cookbooks!).
Spiced Applesauce Bread

1 1/4 cups applesauce (I used unsweetened)
1 cup white sugar
1/2 cup vegetable oil (I'm fresh out, so I used melted shortening. It worked.)
2 eggs
3 tablespoons milk
2 cups all-purpose flour (I used 1 cup AP, 1 cup whole-wheat)
1 teaspoon baking soda
1/2 teaspoon baking powder
1/2 teaspoon ground cinnamon
1/4 teaspoon ground nutmeg
1/4 teaspoon ground allspice
1/4 teaspoon salt
Preheat oven to 350 degrees F (175 degrees C). Lightly grease a 9x5 inch loaf pan.
In a large bowl, combine the applesauce, sugar, oil, eggs and milk; beat well. Sift in the flour, baking soda, baking powder, cinnamon, nutmeg, allspice and salt; stir until smooth. Fold in the pecans. Pour batter into prepared loaf pan.
Bake in preheated oven for 60 minutes, or until a toothpick inserted into center of the loaf comes out clean.

I had a bit of a brain cramp and forgot to take pictures of the bread before it was gone (the leftovers were great for breakfast... and snacks... and, well, anytime...). But trust me -- it was beautiful... and oh-so-tasty! Sarah liked it, and it was a great complement to the fruity black tea we drank. It had a perfect balance of sweet and tart from the applesauce, and the spices added a touch of warmth. It's really hard to go wrong with that apple-spice combination, isn't it? I'm sure I'll be baking this bread again (and again, and again!), so I'll be sure to post pictures next time.
Posted at 6/20/2005 5:33:12 pm by
KelliMelli
Permalink
Saturday, June 18, 2005
Humidity + Baking -- an Interesting Combination!
This is really turning into a baking blog, isn't it? Well, baking is what I love best! Plus, with Kevin working the 3 - 11 shift at the station, we never get to have supper together, so I'm not doing an awful lot of
cooking
cooking. There's a lot of spaghetti, sandwiches, and cereal being eaten in this house. Embarrassing but true. But at least the sandwiches are being eaten on homemade bread!
Speaking of homemade bread, this is what happens when, on a humid (but blissfully cool!) day, you let your bread machine make your dough, and you forget to feel the dough partway through the process to check the water/flour balance: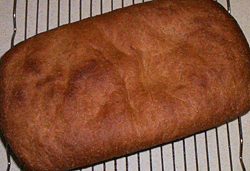 OK, so that picture doesn't quite give the full effect. But this one does: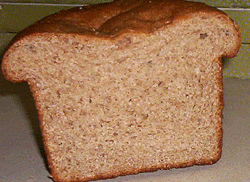 Kinda looks like a mushroom (the name of which eludes me right now), doesn't it? So, the dough has too much water, or not enough flour, depending on your view of things. It comes out too soft and sticky and the top of the loaf sinks while baking. But, much like my crazy multigrain bread, it still tastes good! This is a recipe I have made several times, usually with a bit more success...

Wheat Germ & Honey Bread

adapted from
"Smart Bread Machine Recipes"
by Sandra L. Woodruff
makes 1 1-1/2 pound loaf
2 cups whole-wheat flour
1 cup unbleached bread flour
4-1/2 tbsp toasted wheat germ
1-1/2 tbsp vital wheat gluten
1-/2 tsp yeast
3/4 tsp sea salt
3 tbsp honey
1-1/2 tbsp lecithin granules or vegetable oil
1-1/4 cups water
Mix dough in machine, then bake in machine or in a 9x5 pan, in a 350 oven for 35 - 45 minutes.
Posted at 6/18/2005 11:05:25 pm by
KelliMelli
Permalink