I was dying to bake cookies last night, but my time was otherwise occupied. This afternoon Kevin said "you should bake cookies tonight!" I told him I'd already been thinking of it, but was having a hard time choosing a recipe. He suggested something "light and fruity." I wanted to use up some of the overabundance of white chocolate chips in my kitchen. We tossed around a few ideas, and decided that a lime-flavored shortbread would be fantastic when drizzled with some melted white chocolate. So I spent the better part of the evening perusing shortbread recipes. Now, keep in mind that it was about 90 degrees in greater Boston today, and was still 80ish at 8 this evening (and now, at 11pm, it's still 81!). I just couldn't bear the thought of fussing with shortbread. Instead, I modified this recipe from Epicurious and ended up with these super-easy drop cookies: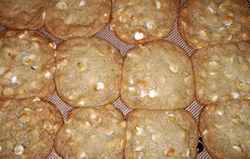 Lime-White Chocolate Chip Cookies

1 1/4 cups all purpose flour
1/2 teaspoon baking soda
1/8 teaspoon salt
3/4 cup (packed) brown sugar
1/2 cup (1 stick) unsalted butter, room temperature
zest of one lime
1 teaspoon vanilla extract
1 large egg
1 (10-12 oz) bag white chocolate chips

Preheat oven to 350°F. Combine flour, baking soda and salt in medium bowl; whisk to blend. Using an electric mixer, beat brown sugar, unsalted butter, lime zest and vanilla extract in large bowl until light and fluffy. Beat in egg. Add flour mixture and mix just until combined. Mix in chips. Let dough chill in fridge for about 15 minutes (or longer if it's as hot as it is here right now -- my cookies spread a lot more than I really wanted them to, as you can see in the picture).

Drop dough by heaping tablespoonfuls onto 2 ungreased baking sheets, spacing 2 inches apart. Bake cookies until just firm to touch and beginning to brown, about 13 minutes. Transfer to racks; cool. (Can be made 2 days ahead. Store airtight at room temperature.) Makes about 24.
The verdict? An 80 degree evening after a 90 degree day is just too damn hot to be baking. But these cookies are sooooo good!